Finding Direction in All the Right Places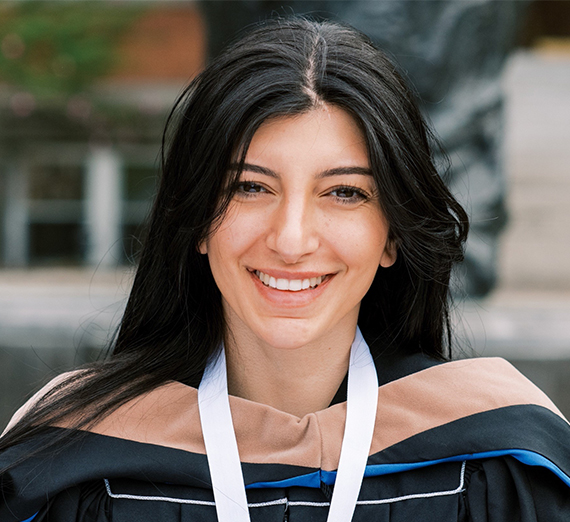 ---
A chance meeting in a Budapest bar opened up the world of possibilities for Jackie Tanios, who received her Master's in Business Administration from Gonzaga this May.
The daughter of refugee parents from Lebanon who moved to Sweden and divorced when she was 6, Tanios grew up learning to be agile while adjusting to new circumstances.
In summer 2018, the practicing nurse manager in Sweden was traveling Europe and ran into Gonzaga law student Phillip Silcher. They struck up a conversation, he took her Florence to show off his university's Italian campus and she was hooked.
So taken by this American institution with the international campus – and perhaps a little by the man awaiting the results of the Washington bar exam who identified himself an "almost lawyer" – that within a year, she packed her bags, applied for a visa and was on her way to begin an M.B.A. program in Spokane.
"I left everything and everyone I have ever known. I remember walking in the grocery store and only hearing people speaking English around me and I thought 'English is not my first language, it is not even my second language, what am I doing getting a master's degree here, I can't compete!?'" she says. "And yet, after joining the Gonzaga community, I soon realized that I was not alone."
Raised in Sweden, she learned English by watching The Simpsons. "So my application to the M.B.A. program had a few 'doh's' and 'ay carambas' in it," she jokes in her commencement speech to her Class of 2021 mates, who nominated her to reflect on their behalf. "The Simpsons might have taught me the language but Gonzaga taught me how to communicate, how to listen and how to go out in the business world and be a leader," she says.
Tanios especially appreciates Professor Mirjeta Beqiri for her resounding faith in, and support of, Tanios. She recalls her first accounting class with Professor Gary Weber, and telling Silcher "It is so much fun, it's like a puzzle." Next came finance with Professor Danielle Xu. "I came home and told my boyfriend I definitely want to be an investor, it's like trying to predict the future. And then came marketing and you can imagine that conversation," she says.
One of her last classes was Ethics with Professor Brian Steverson. "The conversations we had in that class I will take with me forever. I was able to share my thoughts on life, education, right and wrong, God, my professional pursuits, politics and much more," she says. "I walked away from every session feeling heard, important and valuable."
Paying Her Dues
To help pay for her education here, Tanios worked as a graduate assistant in business, for Assistant Professor Yemise Awotoye, conducting research, "something not available to students in Sweden." She worked a second graduate assistantship in Nursing for Lecturer Dana Jacobson, measuring student performance pre- and post-COVID, as well as how undergraduate grade point averages of graduate nursing students affect their progress through the graduate program.
Now, about to embark on new adventures, Tanios feels confident interacting with professionals and asking legitimate questions. "And now I know what I'm talking about. I can talk accounting, balance sheets, financial statements and analyze the market."
She's grateful to a university community that welcomed her in, and made her feel comfortable and accepted. "There are so many terrible things going on where my family comes from in the middle East, with people struggling to feed their kids. What do I have to worry about? Not raising my hand in class? If I'm unhappy about something, I have the tools to fix that.
"I approach life with a positive attitude. If you worry about things all the time it is apt to steer you in a direction you don't want to go," she says. "If I had let fear steer me, I wouldn't be here. Trust in God and He'll make sure you are where you need to be . . . and then it' up to you to make the best of it."
Now she is looking for a job in or around Spokane where she can apply her business and/or health care skills, perhaps with a business with global perspective. But before settling in, she'll fly back to Sweden to embrace her mom and share the graduation celebration that mom was unable to attend. A fitting next step for the woman who found her initial direction in a Budapest bar.
See what a Gonzaga M.B.A. offers.