Pandemic Response Task Force: The Final Chapter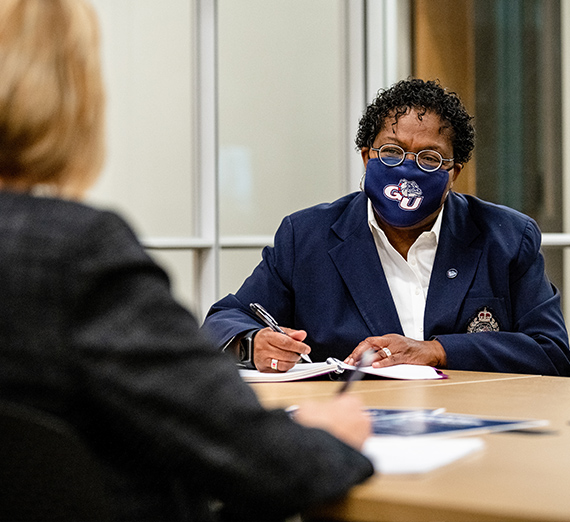 ---
Chair Charlita Shelton and her nine committees of Gonzaga's Pandemic Response Task Force are certainly looking at this endeavor as the Final Chapter as they create a strategic plan for a full re-opening of campus and classes in the fall, as requested by President Thayne McCulloh.
"We hope we never have to go through this process again," says Shelton, who recently was appointed chief of staff to President McCulloh, and continues to serve as the University's COVID-19 compliance officer.
The two-time former university president, Shelton likens this task to what she and her 10 committees did one year ago, with the one primary difference being the "full" return to campus.
"We have two things in our favor going forward," Shelton says. "Phase three, which has allowed many different parts of our community to re-open, although case numbers could alter that, and vaccinations. My primary concerns remain 1) that we continue to follow COVID protocols to ensure we don't go backwards, and 2) how many of our community members vaccinate before they return to campus."
A University decision has yet to be made on whether to mandate vaccinations for those returning for fall semester – students, faculty and staff. But offering vaccinations on our campus for the entire GU and broader communities may make a required vaccination decision easier, should that happen, she says.
If the vast majority of our campus community is vaccinated, Shelton says, it will likely reduce the number of COVID protocols currently in place. For example, will we still have to practice physical distancing in the classroom and require Plexiglas in our public office spaces?
"That said, we still will likely ask everyone to wear face coverings and wash hands frequently for better protection."
Shelton and her committee have learned a lot over the past 12 months. "You have to plan your work and work your plan," she says. "If you have brought the right people to the table and been strategic about your planning, things will be alright. We have the hardest-working community of any institution I've ever served."
Shelton hopes the new plan will be complete by May 27. "Then we'll give our committee people a break. They need it. Once implemented, we will follow our plans through the year, pivoting quickly when changes are needed," Shelton says. "We could have a proclamation from the governor on what higher education will look like and have to adjust. We could move to phase 4, or back to phase 2. We have to be agile in pivoting as we respond to what happens in our city, state and country, and I'm convinced we will be."
Shelton is not new to change, and can take the flak that comes her way. She grew up on the poor side of Chicago, was tempered serving in the U.S. Marine Corps and during her tenures as president at Denver's University of the Rockies and Atlanta's Argosy University, and in the hot seat here during this ongoing pandemic.
"But every experience has toughened me up," she says. "And this pandemic has enlightened us all."