Counting On: Special Recognition for Four Graduate Students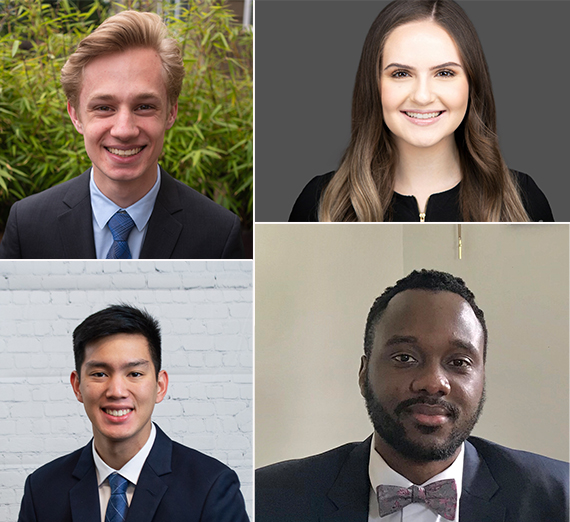 ---
Four graduate students will soon begin their careers in accounting after achieving excellence inside and out of the classroom. Whether chosen for competitive positions, conducting research or showing great involvement on campus, these students show accounting for the multi-faceted and diverse field it is.
Diana Tupikova ('21) is one of only six students nationwide chosen to work as a postgraduate technical assistant with the prestigious Financial Accounting Standards Board, FASB.
Despite the prestigious recognition, Tupikova stays humble. "Sure, my name is on it and it's my accomplishment, but I don't think that where I am has been just my doing," she said.
Tupikova is both a first-generation college student and first-generation American. After graduating high school early at age 16, she attended Spokane Community College and transferred to Gonzaga University. Tupikova balanced an average of two jobs in addition to school, studied abroad her junior year and received a job offer from one of the big four accounting firms in Seattle: Deloitte.
While reflecting on her own hard work, she credits her professors and her mom.
"My professors and everyone at Gonzaga are so willing to help you and work with you," Tupikova said. Her professors supported her while she most recently balanced work, school and studying for her CPA exam, which will provide professional certification as an accountant.
Tupikova gives special thanks to her mom, who has always been her number one supporter.
"My mom came to America with the American dream in mind. I feel like she didn't have the opportunity to fulfill her American dream, but I'm living that for her. I am her American dream," said Tupikova.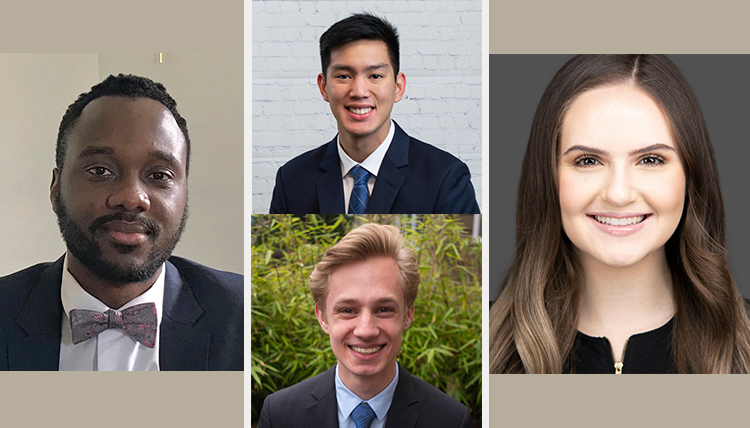 During his final year in the master of accounting program at Gonzaga, Nick Swallow ('21) spent the year researching with Matt Hoag, a professor in the School of Business Administration, to build a teaching case. Their goal is to publish the research to be used at business schools nationwide.
When Swallow took Hoag's class Data Analytics for Accountants last year, he was fascinated by the use of different technologies. "It taught me a lot about analytics, but it also provided me the opportunity to teach myself new technologies," Swallow said. The class inspired him to reach out to Hoag and offer his help doing independent study as a grad assistant.
The teaching case is centered around the introduction of a new technology never taught before at the business school, Alteryx.
"The hardest part is getting started if you've never experienced the technology before," Swallow said. Their research will include a step-by-step guide for students starting the project.
"I'm excited to get out there and actually apply the things that I've learned, especially with the technologies I've taught myself," Swallow said. He will begin his career as an auditor for the Seattle Accounting firm EY in the fall.
While earning his bachelor's degree in accounting and master's degree in accountancy, Saran "Pitcher" Tiatragul ('21) contributed to and served with countless organizations on campus.
He worked with housing and residence for four years, where his favorite aspect was watching his residents grow throughout the years. Tiatragul also mentored middle schoolers through CCE's program "Game."
When he wasn't assisting in the residence halls or in the community, Tiatragul was a peer tutor in the athletic department. "Helping out our athletes really helped me understand and see their experience," he said. Often Tiatragul was able to watch their success from the stands, as he performed with the Bulldog Band.
Tiatragul's holistic experience enabled him to find the same kind of variety in accounting.
"Accounting is way more than what people think it is."
His long-term goal is to pursue a Ph.D. and eventually teach accounting or economics at a college level. For now, Tiatragul hopes to work in public accounting as an auditor or advisor.
Divin Kanyama ('21) is an international student originally from the Democratic Republic of Congo, Africa, who came to the U.S. for college. He studied first at community college in Tacoma, Washington, and then transferred to Gonzaga in 2016, motivated by their successful accounting program.
Kanyama recalls the culture-shock of moving across the world and feeling like he stood out. He connected with the Center for Global Engagement, where he met an advisor who spoke French, a language that the two of them shared.
"It was nice to relate to somebody who you know can actually speak the same language, especially in a new environment," Kanyama said. Kanyama also credits his faith in God for helping him overcome the challenges.
One of his favorite memories was going skiing for the first time with other students involved with the Center for Global Engagement. Feeling this tie to the community, Kanyama contributed to the Center for Global Engagement throughout his time as an undergraduate.
In addition to being involved on campus, Kanyama has worked in the accounting department at ITRON for the past two years. He will soon graduate from the tax program and hopes plans to study for the CPA this summer."These students represent what it means to be a Zag," said Director of Accounting, Andrew Brajcich. "They came to Gonzaga not just to learn a profession, but how to live a fuller life. They represent the future of our profession."
Learn more about graduate programs in the School of Business Administration.