Providence Health Care, GU Partner for COVID-19 Vaccination Clinics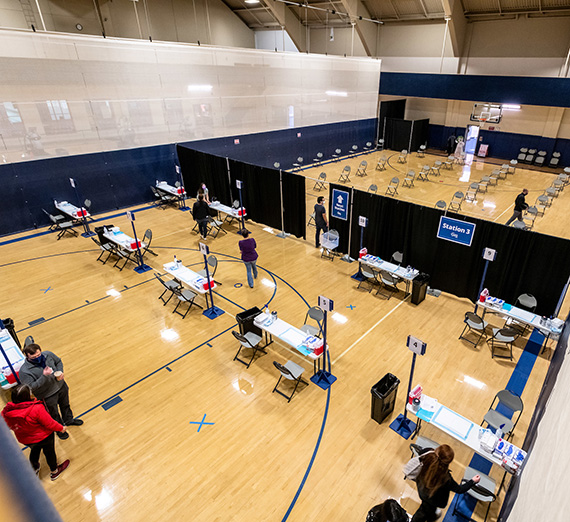 ---
SPOKANE, Wash. — Free COVID-19 vaccine appointments will be available for all Inland Northwest community members ages 16 and older at weekly community vaccine clinics on the Gonzaga University campus beginning Thursday, April 22.
The clinics are managed and administered by Providence Health Care and hosted by Gonzaga University at the Martin Centre Fieldhouse, 710 E. Lower Kennedy Drive, from 10 a.m. to 7 p.m. starting Thursday, April 22.
The clinics will continue every Thursday as long as there is community demand. Future clinics are scheduled for April 29, May 13, 20 and 27.
Appointments are required and can be secured through https://providencecovidvaccinewamt.squarespace.com/spokane. Appointments for the April 22 and April 29 are now open at this link. Per state guidelines, all persons 16 years of age and older are now eligible to receive a COVID-19 vaccination in Washington State.
Providence Health Care has offered regular vaccine clinics for the community since the vaccine became available. Gonzaga University has hosted several public vaccination clinics on its campus in the last three months.
"The vaccine is one of the most important tools to help us make it to the other side of this pandemic," Providence Health Care Chief Operating Officer Peg Currie said. "We encourage everyone who is eligible to get vaccinated as soon as they are able. If our community gets vaccinated and continues to mask and social distance, we can get through this together. With our partner, Gonzaga University, we are pleased to be able to make the vaccine available in a centralized, convenient location for our community."
"The availability of vaccines, and making sure our community members are vaccinated, is one of the most powerful things we can do to bring this pandemic to an end," Gonzaga University President Thayne McCulloh said. "We are honored to assist Providence by hosting these clinics and hope that as many members of our community will take advantage of this opportunity as possible."
Contact: Ariana Lake, Providence Communications Manager, (509) 824-2673; ariana.lake@providence.org