Accounting Student Diana Tupikova Earns Prestigious Position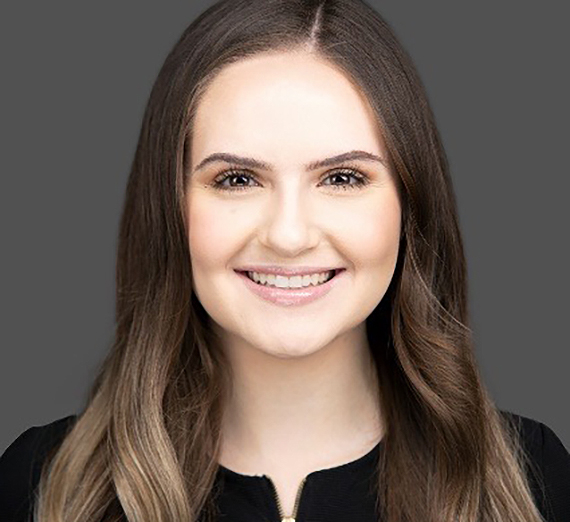 ---
SPOKANE, Wash. — Gonzaga University Master of Accountancy (M.Acc) student Diana Tupikova is one of approximately six students nationwide selected by the Financial Accounting Standards Board (FASB) for the Postgraduate Technical Assistant (PTA) position. Tupikova, who graduates in May, is the second GU student to receive this prestigious position.
The placement is highly competitive, requiring applicants to complete a graduate degree or double major while demonstrating exemplary academic performance and communication skills. Furthermore, each applicant must be chosen by the accounting department as the sole nominee to represent their university.
The FASB is responsible for establishing and maintaining the rules that govern financial accounting in the United States. This set of rules, known as the generally accepted accounting principles (GAAP), is used by many U.S. companies from nonprofits to Fortune 500s.
After graduation, Tupikova will join the PTA January Class of 2022. According to the FASB website, her duties for this one-year position will include "analyzing written submissions received on documents issued for public comment, reviewing and analyzing published research, preparing memorandums on technical issues for Board members' information, drafting due process documents, and evaluating accounting proposals of other organizations. Additionally, she will attend and occasionally participate in public Board, task force, and other meetings pertinent to her projects."
Background
Tupikova began her journey at Gonzaga as a junior transfer student after receiving her Associate of Arts (AA) degree from Spokane Community College. At Gonzaga, she was active in Beta Alpha Psi and took part in Gonzaga's study abroad program in Florence, Italy for a semester. In 2020, she graduated magna cum laude with a Bachelor of Business in Accounting degree before continuing with Gonzaga's Accelerated M.Acc Program.
At Gonzaga, Tupikova has exemplified a strong work ethic.
"Hard work pays off," said Casey McNellis, Ph.D., CPA, assistant professor of accounting. "Diana shows up to class every day motivated to learn, and her application really told the story of her impressive work ethic and ability. This is a tremendous accomplishment, and I am thrilled that she has earned this unique opportunity."
Tupikova has also completed accounting internships at both Decoria, Maichel, and Teague and Deloitte and worked as an accounting tutor, a valet cashier, and as a graduate assistant. In addition, Tupikova is a two-time recipient of the Washington Society of Certified Public Accountants Scholarship award.
'Blessed and Honored'
Tupikova said she feels "blessed and honored" to have been selected for the award.
"I am truly humbled at the fact that I was the one chosen out of so many amazing students. I have worked so hard to get to where I am, and it is hard to explain the feeling when your hard work is starting to pay off," Tupikova said, offering special recognition to her mother, Vera.
"She is the most supportive and selfless person I know and has sacrificed so much for me," Tupikova said. "I would not be anywhere without her and would love to give her credit. I am so blessed to have her in my life."
Tupikova said she looks forward to the opportunity to continue learning in the new position.
"There truly is no organization like the FASB. The caliber of professionals who work there are the best in the industry, and they host a wealth of knowledge and experience. I can only hope that they will share their expertise and knowledge with me," she said. "I am looking forward to interacting with various CEOs and CFOs and getting that insider perspective on accounting standards and their implications. I am proud to be representing Gonzaga and am so thankful for the education that I've gotten here because I know it will help me make my impact at the FASB."
MEDIA: For more information or to interview Tupikova, please contact Haley Topliff at Gonzaga's Graduate School of Business at (509) 313-7047 or topliff@gonzaga.edu.