Alumni Spotlight: Clare Greaney, Special Education, '15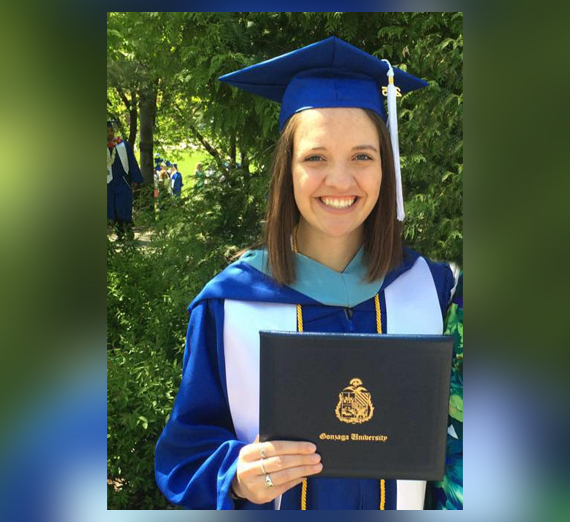 ---
What is your name, which degree did you earn, & what year did you graduate?
Clare Greaney
Majored in Special Education and got an Elementary Endorsement
Graduated in 2015
What is your current occupation or role?
4th-6th grade resource room teacher at Arlington Elementary in Spokane
Why did you choose a program in the School of Education at Gonzaga?
By the time I was looking at colleges, I had known for a few years that I wanted to be a teacher. I wanted to be able to graduate in four years with a teaching certificate, and I wanted to be able to begin working in the schools early in my program. Gonzaga was the only college I looked at that offered both of these things. When I visited Gonzaga the summer before my senior year of high school, a professor from the School of Education took the time to sit down with me and really explain how the program worked. Both the conversation and the fact that a professor cared enough to help me make my decision made it clear to me that Gonzaga was the best fit.
What, or who, influenced you the most at Gonzaga? Please share as much as you are willing.
Tim McLaughlin influenced me most at Gonzaga. My freshman year of college I was never completely sure if Special Education was the right fit for me, and I planned to teach in a general education setting. Tim became my advisor my sophomore year and I also began taking classes from him that year. My junior year I took his Behavior Disorders class, which was my favorite class in college and really helped me discern that I did want to be a Special Education teacher. Working with students who need support with their behavior is my favorite part of my job, and it is because of Tim McLaughlin that I first got interested in this aspect of teaching.
What is the most rewarding aspect of working in your field? Most challenging?
The most rewarding aspect of being a resource room teacher is creating a space where struggling learners feel safe, supported, and successful. My students often struggle to keep up in class, and many of them feel defeated by the fact that they aren't able to do everything their peers can. Being able to show them that they are making academic progress and celebrating their successes and strengths is one of my favorite parts of my job.
The most challenging aspect of working in my field is the lack of resources. Special Education programs are often understaffed and have high staff turnover, and both of these things make my job more challenging and creates a less stable environment for my students. I teach in a Title 1 school, so many of my student are not having basic needs met at home and therefore require a higher level of support at school.
What critical issues do you see that need to be addressed in your field?
I think more of an emphasis needs to be placed on mental health, both in schools and in teacher training programs. The mental health of students has a huge impact on how well they are able to function at school, both behaviorally and academically. While there are some supports for this in the school I work at, I think that we need to be doing more to support our students with mental health issues. I also believe more should be done to prepare teachers to be effective with students with mental health issues.
What advice do you have for future education professionals?
I would advise future education professionals to learn how to take good care of themselves. Teaching can be incredibly rewarding, but it can also be incredibly exhausting. One of the most important things I have had to learn since I began teaching is how to disconnect myself from the job and recharge, so that I can go back the next day and be at my best.