Getting Classroom Experience ... Without the Classroom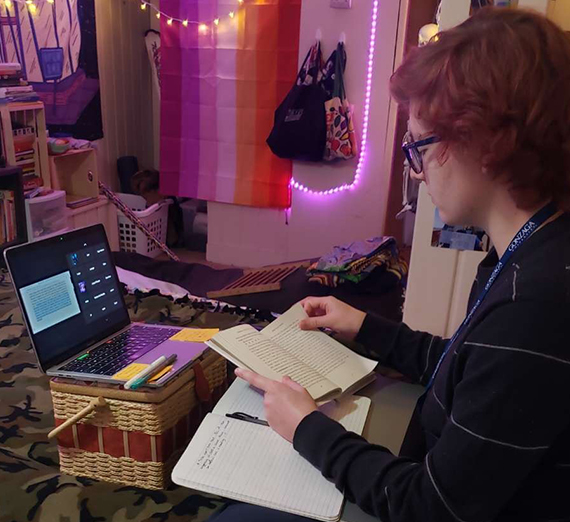 ---
What does student teaching look like without the classroom?
This is the question that Gonzaga University School of Education faculty, professors and students have had to answer. COVID-19 health concerns have prompted most Spokane public schools to transition to virtual learning. For many students in the School of Education, this means their field experiences and student teaching take place online.
The details were months in the making. Before summer began, the School of Education assembled a task force to brainstorm different options for countless scenarios.
Dean Yolanda Gallardo said, "It was clear that it wouldn't be business as usual."

The team created a virtual module that taught faculty and student teachers about virtual learning strategies, technology tools, online safety and building relationships online. The harsh reality in August required preparing for instruction landscapes that could be completely virtual, solely in-person, hybrid and a combination allowing for flexibility to shift at any point among these styles.
The Gonzaga School of Education maintained two priorities. The first was the safety of Gonzaga students and the greater Spokane community.
The second was the success and well-being of the elementary, middle and high school students the School of Education serves.
Kathy Nitta, assistant professor of teacher education, said student teaching is "an opportunity to expand teaching skills." It's also necessary for student teachers to be value added to a classroom, and to support K-12 students and families, she added.
"I'm so proud of Gonzaga University and our community partners. Everyone's hearts are all in the right place," Gallardo said.

Gonzaga's education majors in field experiences are realistic but hopeful.
Emily Johnson ('21), who is majoring in Psychology and completing her teaching certification, taught math virtually at Cooper Elementary in Spokane. Over the course of the semester, she spent 30 hours student teaching, before student teaching full-time this spring.
Teaching math online to elementary schoolers has its difficulties. "The kids are great," Johnson said, "while some do get more distracted than others
."
Lizzie Vosler ('21) t
aught
eighth
grade e
nglish
at Spokane I
nternational Academy.
Like other students placed in field experiences, she split her time between student teaching and taking classes to fulfill her degree requirements at Gonzaga.
Though not a fan of online learning in general, Vosler enjoys con
necting
with her students.
"They're fun, they bring a different kind of energy to the classroom,"
she
said. "One time we even stayed after class
just
to talk about Star Wars."
Vosler plans on taking a gap year after graduation
cit
ing
the high rate of burnout for teachers, worsened by the challenges of online learning.
Madilynn
Gamaunt
('2
1
) also
completed
her field experience virtually
in the fall
. She taught a
k
indergarten class at Adams Elementary, in Spokane Valley.
H
er students elected to be online throughout the year.
A younger age group brings new
challenges
when it comes to virtual learning.
Gamaunt
says they
tr
ied
to provide breaks for the students every 25 minutes.
"The stamina isn't there,"
Gamaunt
said
,
"
and
learning new technology can be extremely frustrating for
my
kids, especially when they can't express it
.
"
"
We
take it day by day,"
Gamaunt
added
.
Another complication for student teachers is the
edTPA
assessment
required
for the
teaching certificate.
It
requires
candidates to
record a video of their teaching accompanied by an analysis. However, privacy concerns
forbid
the video
from
contain
ing
footage or names of the students. Student teachers will have to
be
creative
to maintain
privacy
while
still
showcas
ing
student responses
.
Despite these
hurdles
, Johnson
focus
es
on the positive. "Kids are getting more access to technology education," she said.
The anxieties
related to
C
OVID
-19 also allow for increased social and emotional learning. Gamaunt
says that
it's
an opportunity to teach kids to identify feelings, how to act and how to treat others.
Neither Johnson, Vosler nor
Gamaunt
are letting the situation bring them down.
"We're going into a field where you have to be flexible and adaptive," Gamaunt
said, "we'll be better equipped for the future."