Cultivating Entrepreneurs in Northeast Spokane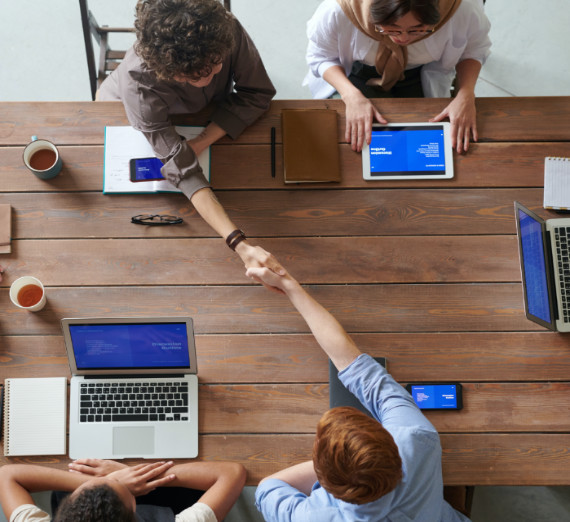 ---
"Many hands make light work!" This is what comes to mind when thinking of the variety of partners involved with Opportunity Northeast. Here, different people, programs, and philosophies are all working towards the same goal – to build a sustainable and equitable community. This includes supporting the development and capacity building of small neighborhood businesses.
Gonzaga's New Venture Lab is a student-run organization that works with local entrepreneurs to help develop new products and business ventures. Entrepreneurs interested in the free business consulting service provided by the New Venture Lab must first apply, and if selected, they are paired with a student project manager and a team of four or five students. Then they work as a team to create a scope of work they will complete throughout the eight-week program. Services provided by New Venture Lab range from developing business plans to market research, all while providing insights to help create new products and businesses. Each project provides students with real-world experience working with both start-ups and seasoned entrepreneurs, enabling students to learn applied business skills in an experiential manner.
The New Venture Lab currently consults on a variety of businesses across Spokane and has joined Opportunity Northeast in coordinating efforts within the initiative area. That means working with such local businesses as, Honest in Ivory Bridal Shop, Dearly Bridal Consignment Bridal Shop, Craft Hair Studio and currently Pop! Balloon Bar.
"We're hoping to continue expanding the work we do in Northeast Spokane" said Program Coordinator Cole Kelly.
Community engagement with local businesses is not only good for the businesses but also benefits the community by keeping a larger share of their profits within the community. As these businesses succeed, they generate more taxes, which in turn improves local services and school development.
Supporting local businesses in Northeast Spokane provides jobs, an increased tax base, and innovation, it also helps establish a more robust community identity.
To learn more about these initiatives and to read similar stories, make sure to subscribe to the ONE newsletter by e-mailing ONE@gonzaga.edu.