What I Wish I Knew Before Becoming a Zag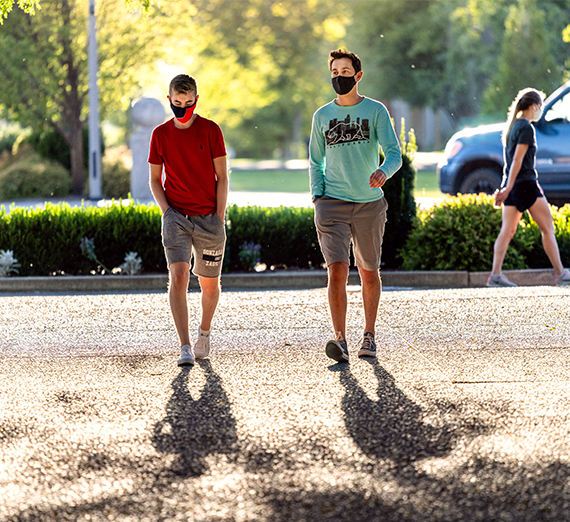 ---
Allison Salvador ('23)
The month before I left for GU, I was extremely nervous about leaving home. I was the only person from my high school, so I would be going into this new completely new environment alone. And this was going to be the longest I'd be away from my family. Almost everyone from my high school had at least one other person from our class going to the same college as them. They would at least have one familiar face on campus. My anxiety was high because I would not have that.
I felt sick to my stomach the week before leaving. I was excited to embark on this new chapter of my life but couldn't help but think about the worst-case scenarios. What if I got to campus and I didn't make any friends? What would I do if I got homesick? What if I am not as smart as my classmates? What if I make a complete fool of myself?
As I arrived on campus, the tension I built within myself began to ease. I was greeted with smiles and cheers as I walked across campus. Everyone seemed so excited to see new faces on campus. Throughout orientation week, I must have met at least 100 people. And every single one of them was so excited to start the new school year.
If I could go back in time, I wish I could have told myself to calm down. Almost every new student I met was in the same boat as I was. We were nervous about making new friends and leaving home. However, these similarities are what drive people together. The community at Gonzaga University is unmatched. Everyone is so kind and friendly that it is hard to walk around campus without seeing a familiar face! There is no place like it and, I am so glad to call GU home.
Brandon Webb ('23)
There are not too many extra things I wish I knew before I came to Gonzaga because I was fortunate to personally know a few people who went here, and I visited GU through the Host Program, staying overnight in a residence hall with my hosts. Regardless, I have a few small things that I wasn't told that I wish I knew.
The first thing I wish I knew was to get a meal plan that had more Bulldog Bucks, and more limited swipes. I chose the Platinum Meal Plan because it had unlimited swipes and that sounded great, but it also had least amount of Bulldog Bucks. Bulldog Bucks, if you do not know, are a form of currency you can use in different restaurants and fast food places in Spokane. I did not mind going to the main dining hall, the COG, for the first month or two at GU, but after a while I got tired of the food there and wanted to eat something else for a change. Bulldog Bucks give you a lot of options, such as pizza, sandwiches, pitas, etc. from places close to campus or a little farther. I quickly ran out and, with more Bulldog Bucks, I think I would have been able to have less of a hard time forcing myself to the COG.
One more thing I wish I knew was to get a group of friends together before the end of freshman year to sign a lease for a house in the Logan Neighborhood. The houses in the neighborhood close by campus get grabbed up very fast even though students are not allowed to live off campus until they are juniors. I wanted to get a nice house off campus with five of my other friends, but when I got back to campus at the beginning of my sophomore year, there were almost zero houses left and I didn't have a lead to get one.
Obviously, these are things that are a little more personal to me and what I wanted to do, but I do believe that living and meal situations are the most important changes when you leave for school, and I wish I was told just these few tips before I came to GU.
Kaleigh White ('23)
I remember being so nervous, yet full of excitement on the day I decided to #BeAZag. There were so many opportunities that lay ahead, but so much that I didn't know. One thing I wish I knew about Gonzaga earlier was the scholarship opportunities through the University aside from the academic scholarship that is often received upon acceptance. For first year students and transfer students, the "Scholarship Opportunities" page on the GU website is especially helpful. There are a variety of scholarships offered for academic excellence, those who graduated from a Catholic high school, and there is even one for incoming students who come from the Big Sky State of Montana, among many others.
I also wish I had known sooner what a welcoming community I was joining. I was so nervous when I finally decided that Gonzaga was the place for me. "Will I fit in?" "What will the professors be like?" "Will I sink or swim?" were all thoughts that crossed my mind. After spending my first week on campus, I realized all those worries were for nothing. Gonzaga has such a diverse student body with members of all interests and professors who care about your success both personally and academically. The Gonzaga community is one that is small and closely connected; it is easy to thrive, make friends, and create valuable connections. College is all about stepping outside your comfort zone, finding your voice, and realizing your passions and purpose in the world. Gonzaga is the place that has allowed me to learn and grow socially, personally, and academically in a way that has allowed me to find who I want to be in the world, the change I want to make, and the people that I want to take with me on that journey.