Creating the Next Generation of Global Citizens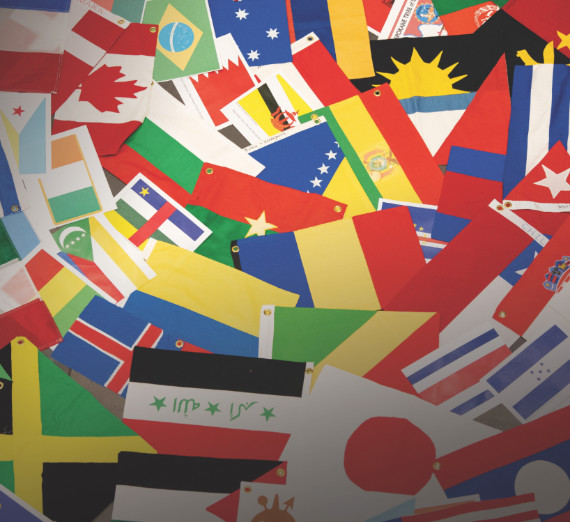 ---
Travis Franklin ('13 M. A . Organizational Leadership) has cultivated something special for Spokane families looking for a nontraditional public school option. Franklin is the founder of Spokane International Academy (SIA), a charter school focused on global competency.

"The goal is to create and inspire a new generation of global citizens," Franklin said. "We want students to understand the people they share this world with."
Travis Franklin, '13 M.A. Organizational Leadership
While teaching fifth grade and sixth grade in the Mead School District, Franklin began dreaming of an alternative educational experience, and Washington was finally gaining traction in legislating charter schools, the 42nd state in the nation to do so. Gaining full approval for their operation would require cohesive lobbying efforts by would-be school leaders across the state, along with parents who desired more public school options for their children. Franklin found a shared passion among fellow teachers, and began beating a path to Olympia to connect with lawmakers. He and other charter advocates supported one another, each promoting unique solutions for the communities where they wanted to create schools.

"I had a desire to see if I could create a different style of education, where you can really focus on the families in front of you," Franklin said. "I wanted to explore the concept of coming together and really define policies around one singular mission. The opportunity to have a really distinct, unique mission was the biggest differentiator between my experience in a district and with SIA ."

Spokane International Academy is in its sixth year this fall, and after challenges operating out of two facilities in different parts of the city, is enjoying its larger "forever home" at 777 E. Magnesium Road.

But the path to this point has been anything but smooth. While in the process of creating the school, Franklin received considerable pushback due to the mismanagement of funds or other issues at charter schools across the nation. "There were legitimate concerns about that happening in Washington as well," Franklin said.

Despite the hurdles, Franklin and a staff of dedicated teachers opened SIA's doors on Aug. 26, 2015. A week later, they received what could've been a knockout punch.
"On our eighth day of school, the state ruled charter schools unconstitutional. We showed up to school that Monday and there was nearly 100% attendance. Families said 'We are in, let's do this,'" Franklin said. "So we spent our first year in operation working with the state to rewrite charter law."
He was fortunate to have secured grants so the school would not have to rely on public funding during that time. Since then, SIA has relentlessly stuck to its mission to create the next generation of educated global citizens through a uniquely diverse education.

Here's how they make that happen:
By the end of elementary school, students have explored the cultures, rituals and traditions of North and South America, Asia, Oceania, Africa and the Middle East.
Middle-school students deepen their understanding of the world through a global economy class. They research and provide microfinancing loans to entrepreneurs from across the globe. Cumulatively, they have channeled more than $33,000 to more than 1,100 entrepreneurs in 70 countries.
A global perspectives course focuses on international politics, geography, international education systems and much more.
SIA touts the most diverse staff of any public school in Eastern Washington and is the only public school in Spokane to teach Spanish in all grades.
By the end of high school, SIA guarantees that every student will either have a degree in a trade of their choice for have completed the Running Start program to prepare for life after high school.

Franklin says many of the lessons from his master's in Organizational Leadership program at Gonzaga are woven into his work at SIA .

"Using your vocation to educate and prepare others to go out and make it a better world is super important to me,'' Franklin said. "Everybody I went through the Organizational Leadership program with left with this idea that we were going to make the world a better place. I think that's a uniquely Jesuit focus and a great one to have."
Find a graduate leadership program right for you