Transformative Support for Political Science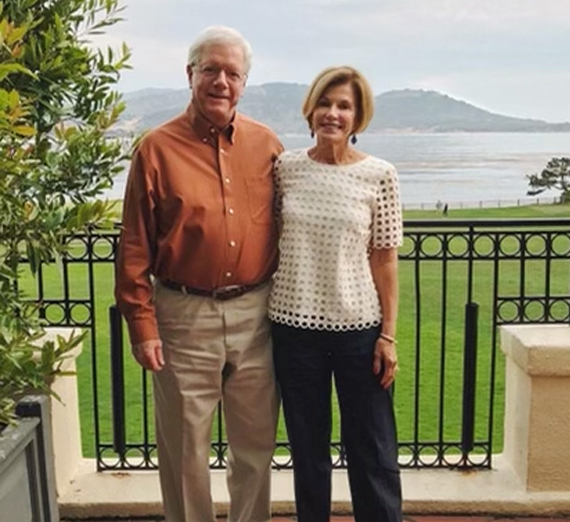 ---
"More than ever these days, we need effective leaders with integrity as our representatives in federal, state, and local governments," said Thomas "Tom" Woodley ('69) of the inspiration behind his recent gift of support for students. His million-dollar donation is the largest in history for Gonzaga's political science program.
"Facilitating political science majors who may choose careers as leaders in all levels of government would certainly be beneficial to a lot of people in our country," said Woodley, who hopes his contribution will inspire others to do the same.
As a Gonzaga student in the mid-1960s, Woodley spent the summer months working as a construction laborer in San Francisco. There, he saw the struggles that workers and unions faced, eventually enamoring him with the topic of labor law.
"I saw how important it was for them to pull together so they could collectively speak on equal footing with employers to improve wages, working conditions and safety," he explained.


Those experiences inspired him to declare a political science major during his sophomore year. He'd originally come to Gonzaga from Saint Ignatius High School in San Francisco, where he grew up as the youngest of four children in a devout Catholic family. His father had studied in a seminary for four years to become a Jesuit before meeting Tom's mother and becoming an insurance agent and real estate broker.
Despite loving the Bay Area, Woodley wanted some independence from his family—and opportunity to be on his own—which was what eventually landed him in Spokane.
"Gonzaga is a great school," mused Woodley, who is active in his Catholicism. "I enjoyed the mandatory philosophy and theology courses—they really strengthened my faith." Woodley was particularly proud of a paper he wrote titled, "An Aristotelian Analysis of the Vietnam War," for Fr. Richard Twohy's class. At Gonzaga, Woodley also joined the Reserve Officer Training Corps.
After Gonzaga, Woodley went on to study at Georgetown University Law Center in Washington, D.C., where he further honed his skills in preparation for a long career practicing law. In 1972, he clerked for a federal district court judge in D.C.
"It was a great experience for a law school graduate because it's like an apprenticeship," said Woodley, who liked litigation and wanted to be in the courtroom representing workers and unions.
After his clerkship, he joined the U.S. Army infantry branch as a lieutenant and served on active duty until 1974. He spent the next three years working at the National Labor Relations Board in their appellate court branch enforcing the provisions and obligations under the National Labor Relations Act, which applies to all private sector employers. After that, he joined a Washington, D.C., law firm, where he began to represent unions and workers—especially firefighters. He became General Counsel to the International Association of Firefighters (IAFF), which represents approximately 300,000 firefighters and paramedics in the United States and Canada. Over the course of the next 43 years (before his retirement in 2019), Woodley traveled around the country, litigating in court on behalf of the IAFF's members.
During law school, he met "a girl from Connecticut," named Nancy. Together, they raised a family of three sons—TJ, Dan, and Kevin. Tom and Nancy settled down in Virginia, where they enjoy time with their seven grandchildren.
Retirement inspired Tom and Nancy to focus on their passions for helping others. They have both been tremendously active in supporting Catholic groups in Northern Virginia like the Ignatian Volunteer Corps (IVC), St. Paul VI High School, Youth Apostles, and their local Jesuit parish. Nancy is on the board of directors for the IVC.
Woodley turned his philanthropic attention to Gonzaga out of gratitude for, as he put it, "a school that gave me such a great education and a positive experience." He added, "Gonzaga put me on a path to do what I wanted to do for my career and in my life, and I am happy to have the chance to give back."
To today's political science students, Woodley offered this advice: "Keep your mind open and don't be discouraged by the divisions that we are unfortunately experiencing in our country. Political science can lead to excellent careers working for federal, state, and local governments. It is essential that we have leaders with honesty and integrity who are committed to public service."
Gonzaga President Thayne McCulloh shared his gratitude for the impact Woodley's generosity will have, saying, "The entire University community is truly grateful for Tom and Nancy Woodley for empowering the next generation wishing to follow in Tom's footsteps. Their support will prove truly transformative to political science students and the communities they will someday serve."
Adding to McCulloh's gratitude, Dean of Gonzaga's College of Arts and Sciences Annmarie Caño said, "The Woodleys' generous support is truly a holistic gift to the department of political science. The scholarship support will remove barriers for students with financial need so they can focus on their political science studies and the support to the department will ensure that students have an enriched learning environment. Gifts like this provide the wraparound support that is so meaningful for our students as they learn how to live with integrity."
Join the Woodleys and the others in Zag Nation who are supporting students with donations this year