Sustainability Q&A with Greta Turnbull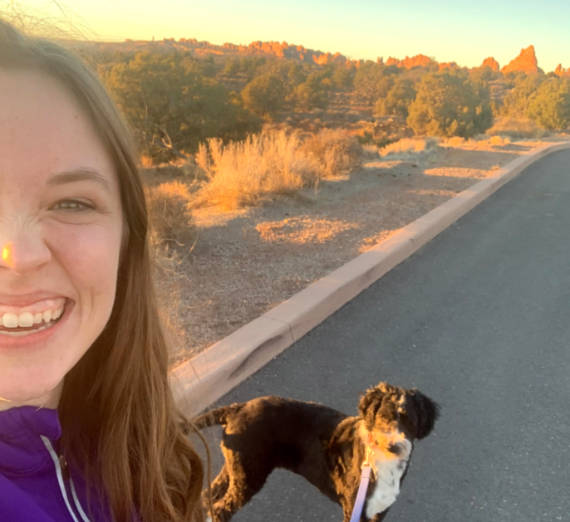 ---
What is your position and department at Gonzaga?
I am an Assistant Professor of Philosophy and my service dog, Beowulf, and I (who you've probably seen around campus) are in our third year here at GU.
What does sustainability mean to you?
Asking a philosopher to define something is an inherently dangerous because it's almost certainly long-winded venture. But I think one way I understand sustainability is that the beings and resources around me have deep, inherent value that it's on me to recognize and respect. And that value is totally independent of the way those resources and beings may meet needs and desires I have.
How have you been involved in promoting sustainability on campus?
I am constantly trying to help myself and my students to identify the assumptions we go about our days with unthinkingly and then to unpack and evaluate those assumptions. In the area of sustainability, this means I'm asking us to consider how we view the beings around us, human and non-human, and how we can ascribe those beings the worth that they are due in our actions more than our words. I also switched to an almost exclusively digital method of homework and assignment submission and it's saved so much paper and been great for me and my students.
What are some things you do in your personal life to live sustainably?
I've learned for me personally that I can sometimes be too slow to make an investment in something pricey even if it will allow me to make more sustainable choices long term. So my current goal is to identify reusable products, even if they're a bit more spendy, to save resources more effectively long term. Right now that means planning my commute strategically to reduce my presence on the road in my trusty Prius and identifying products I use daily that I can swap out for reusable products.
How could Gonzaga continue to improve its sustainability efforts?
One of the things I love about GU is that we're never done growing and we know we have far to go. I'd be delighted to see us continue moving towards relying less and less on paper in our processes in our individual classrooms.
How will you continue to promote sustainability at Gonzaga?
I want to be part of efforts to recognize our assumptions about sustainability and to grow in our creativity to engage our work as a university more sustainably by challenging those assumptions, inside and outside of the classroom.
How do you see sustainability intersecting with social justice issues on an institutional, country, or global scale?
I had the privilege of working on a 100% organic produce farm for several years in high school. It fundamentally changed me as a person in a way no other job has. I got to understand the land as a living organism full of living organisms that interact with the living organisms it sustains. It also taught me how social justice labor issues intersect with sustainable living efforts and made me even more passionate about the work we do at Gonzaga to empower our students to be with and for others.
---