Comedic whodunit welcomes audiences back to Gonzaga's campus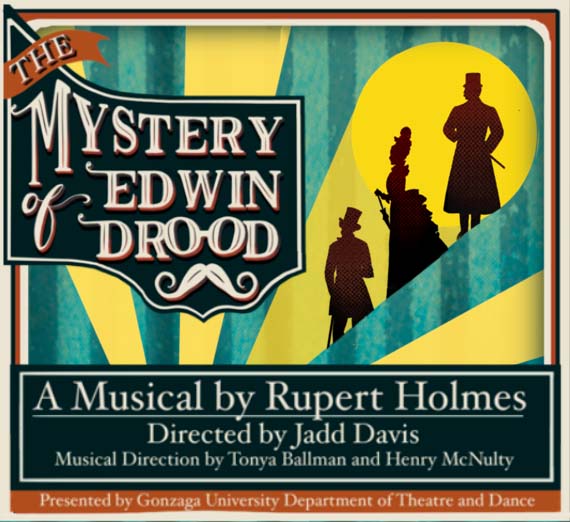 ---
SPOKANE, Wash. – "The Mystery of Edwin Drood," a witty and comedic whodunit with audience participation at the end, will welcome theater aficionados back to the Myrtle Woldson Performing Arts Center on Gonzaga University's campus Nov. 11-14.
The play, with lyrics and music by Rupert Holmes, is described as a love letter to theatergoers with its interactive voting and opening number, "There You Are." It premiered in 1985 and won five Tony Awards, including Best Musical.
It is set in Cloisterham, England, during the Victorian Era and features large musical numbers, abundant visual imagery and the possibility of a different ending each night with patrons voting on who murdered Edwin Drood.
Given the current world context, the musical's goal is to bring lighthearted fun and excitement to the community as audience and company are reunited after so many months separated due to the COVID-19 pandemic.
"I want the audience to be reminded that the act of gathering is valid in and of itself, and that seeing live theater is something to be celebrated," said director Jadd Davis, a new lecturer at Gonzaga in the Theatre and Dance Department.
Casting is intentionally gender and race inclusive as students take on the role of a Victorian theater troupe that performs the murder mystery, a play within a play.
The Theater and Dance Department has collaborated closely with the Music Department on the production, with the company, crew and instructors spending many hours integrating the play's musical and theatrical dimensions.
What: "The Mystery of Edwin Drood"
When: Nov. 11-12-13, 7:30 p.m.; Nov. 14, 2 p.m.
Where: Myrtle Woldson Performing Arts Center, 211 E. Desmet Ave.
Cost: $15 for adults; $10 for Gonzaga students and students of all ages
Tickets: Gonzaga.edu/ticketcenter
For more information: Leslie Stamoolis, theater program director, stamoolis@gonzaga.edu, 509-313-3606.