University of Washington School of Medicine- Spokane Student Helps During In-Flight Health Emergency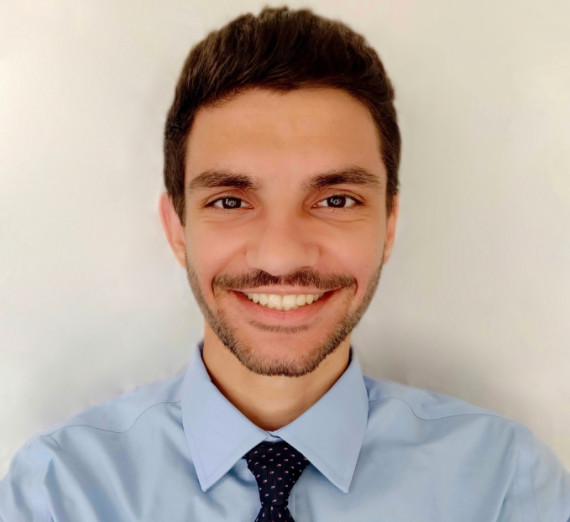 ---
Joey Seuferling has always wanted to be able to help others when needed. This summer, on a flight to Denver the opportunity arose in an unexpected way.
The former Eagle Scout had just finished his first year of medical school at UW School of Medicine-Spokane and was accompanying his girlfriend on a trip to Colorado when he noticed a passenger across the aisle was in distress.
"He started coughing and turned very pale," Seuferling recalled. "The passenger next to him called for a flight attendant."
Seuferling leaned across the aisle.
"I asked if he was okay, but he was going in and out of consciousness."
The flight attendant asked if there was a doctor on board, and a physician responded, as did a paramedic seated in front of Seuferling. When the physician learned Seuferling was a medical student, he requested his assistance.
"He asked me to monitor the patient's vitals," explained Seuferling. "The patient had very low blood pressure and his speech was slurred. I assisted with the neurological assessment and monitored his oxygen saturation and respirations."
The fact that a first-year student was able to offer this kind of timely help, is due to significant changes UWSOM has made to its curriculum.
"Over the past decade, medical schools have changed and evolved their curriculum resulting in students having more hands-on experience and earlier exposure working with patients," said Dr. Darryl Potyk, associate dean for the UW School of Medicine and chief of medical education for eastern Washington at the UW School of Medicine – Gonzaga University Health Partnership. "At UWSOM, this happens between the first and second years of medical school through coursework, service learning, and Rural Underserved Opportunities Program (RUOP) summer research projects."
"At UWSOM during their first week at medical school students learn to take medical history and conduct physical exams. During the next 18 months they build and refine those skills," said Potyk."It's never too early to learn to be comfortable with patients, and it's immensely powerful for our students."
Due to the COVID-19 pandemic, Seuferling worried that he'd lose the opportunity for that hands-on experience.
"But the staff at UWSOM-Spokane told us they were going to do everything they could to allow us to safely see patients," he said.
The reason for that is simple.
"These skills cannot be taught virtually," explained Potyk. "Consequently, during COVID we devoted a lot of time and thought about how to safely allow students to interact with patients. We're seeing benefits that are greater than we anticipated. The students are reminded every week that they're going to make a difference in the lives of their patients."
Seuferling was grateful he was able to draw on those skills to help his fellow passenger.
"The man was able to continue the flight and a paramedic met us when we landed and we debriefed him," he said. "It felt really good to help. My training at UWSOM-Spokane came into play and gave me confidence. This experienced confirmed that this is what I want to do."
The physician on board the flight was impressed with the student's skills and wrote to the deans at UWSOM-Spokane commending Seuferling's ability to calm the passenger and take his vitals, saying he believes the student has a promising medical career ahead of him.
"We're incredibly proud that Joey stepped up," said Potyk. "And we're equally proud that our curriculum prepared him to step up."