History in Stone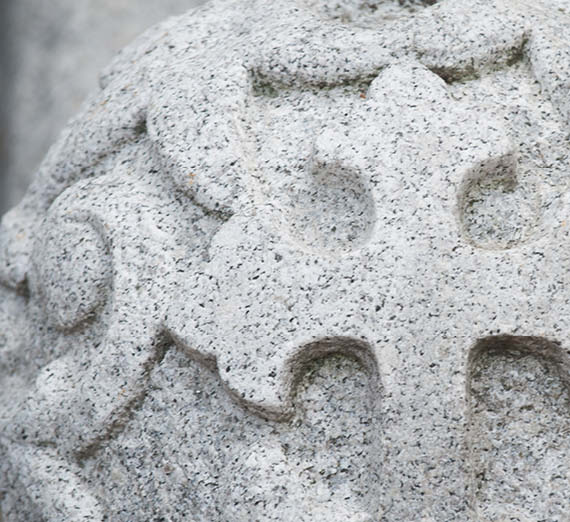 ---
Tucked away inconspicuously just off the northeast corner of the Myrtle Woldson Performing Arts Center near the west end of Gonzaga's 150-acre campus, a granite ball and cap sit on a pedestal of brick cobblestones that used to border trolley tracks that ran down Boone Avenue. This marks the site of the original Gonzaga building, finished just in time for the school's first classes on Sept. 17, 1887.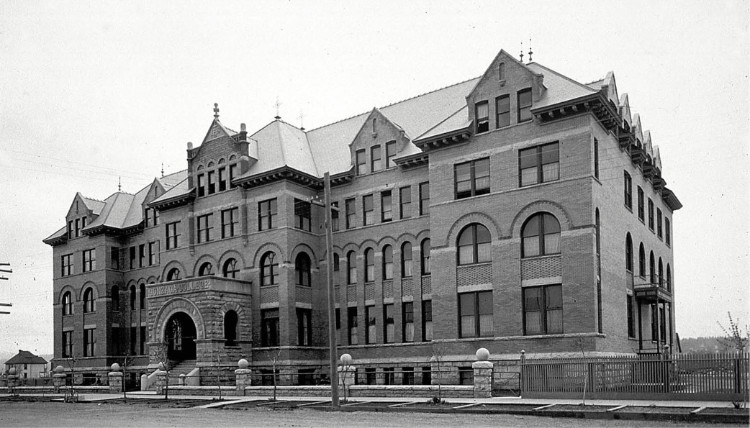 Gonzaga's second administration building, pictured prior to additions, replaced the original building in 1898. Today's students know it as College Hall. (Courtesy of University Archives and Special Collections)
The 100-by-50-foot, all-brick building with two stories and a full basement would house classrooms, a library, separate living quarters for Jesuits and students, a chapel, kitchen and dining facilities. Father Urban Grassi was appointed by Gonzaga founder Father Joseph Cataldo to oversee construction of the college's only building. Fr. Grassi hired famed local architect Henry Preusse to design the structure, and brickmaker Louis Adams to set up shop near the site to make 350,000 bricks.
Many Chinese immigrants had come to the Northwest to build railroads, and five were hired to produce 700 bricks a day, the number required to complete the $14,000 building on time.

Fr. Grassi didn't shy away from lending a hand in the actual construction of the facility. Former Gonzaga historian Father Wilfred Schoenberg recalled Adams saying, "When our well dried up, down (Fr. Grassi) went, and dug for four hours when every minute might have meant certain death from a cave-in."

Later moved by horses and pulleys two blocks to the east to avoid the railroad tracks being built on the south and west sides of the original site, the building served as Gonzaga's headquarters until construction was complete on what is now the west end of College Hall in 1898. The east extension was added in 1904.

While the first granite marker served an important purpose in commemorating Gonzaga's original building along Boone, legend is that "Father Art Dussault thought the fence created by the granite columns and black iron rails looked too much like the prison in Deer Lodge, Montana," so he had them removed, says longtime Director of Plant and Construction Services Ken Sammons.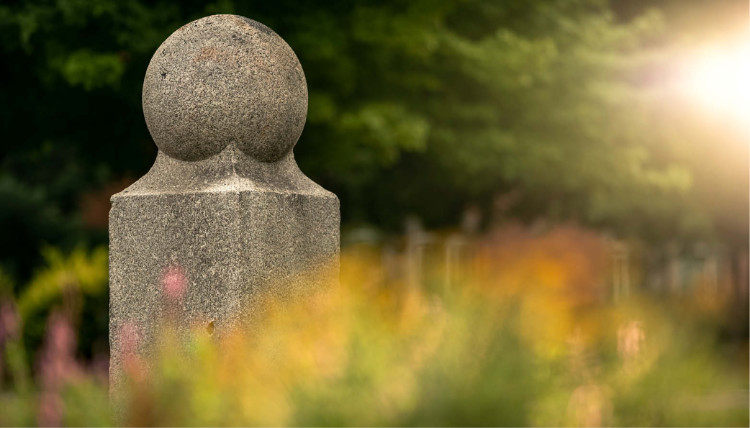 Today, six of the other original granite balls and pillars grace the front entrance to College Hall at Sharp and Addison. A seventh column adorns the Pecarovich Field sign that formerly marked the baseball field and the south entrance to campus, which has been replaced by McCarthey Athletic Center. A plaque on the sign pays tribute to former Gonzaga athlete and coach Mike Pecarovich.

Nine smaller one-piece granite columns and balls of various heights, purchased by Sammons for the University when the former North Central High School was razed. They are located along the Johnston Family Mall: six between Pearl and Astor, two at Dakota, and one at Cincinnati marking the purposely exposed section of the original trolley tracks that ran along Boone Avenue.

A third style – split-face concrete block columns with concrete ball and cap – are integral in marking campus entrances and boundaries along Sharp at Standard and Dakota, and at Cincinnati and DeSmet by Madonna Hall, on the backside of Coughlin Hall along Hamilton, and denoting the "new" south entrance to campus off Spokane Falls Boulevard behind the center field fence at Patterson Baseball Complex.

Surely, Fr. Dussault would approve of their use today.


What campus feature would you like to see next in Then & Now?