Meet Wine Institute Certificate Recipient Heather Davis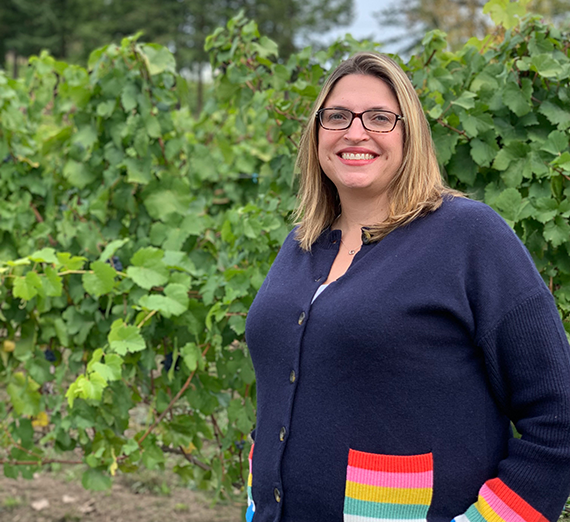 ---
What does a lawyer do after she's worked in the White House and for a U.S. Senator, as a big law associate, and as counsel to the NFL and a growing tech/property management company?
She hits the wine.
At least, that is what Heather Davis did when she decided to enroll in the Gonzaga University Wine Institute's new Certificate in the Legal and Business Aspects of Wine.
Born in Oregon, Davis has explored the state's wine country with her husband since the early days of their relationship. However, until the COVID pandemic, the couple considered New York City home. "When the pandemic hit, we were in New York City, and it was, frankly, a scary time," she says. Wanting to move closer to her parents and leave New York, Davis and her husband decided to spend the summer of 2020 in Oregon, specifically Yamhill and McMinnville.
The time she spent in "the heart of Oregon wine country" helped her change course from oenophile to something more. Davis "explored ways in which I might be able to work in the wine industry eventually." She had looked into law courses on the wine industry before and come up empty. But that summer, she found the new online certificate program that Gonzaga University had just launched.
She says that Gonzaga's Wine Institute "was particularly intriguing to me because it was offered in conjunction with the law school." This was not just a re-packaged CLE. Davis found that "in addition to offering some really interesting courses focused on the laws governing the production and distribution of wine in America, it provided me some really valuable insight into the types of roles lawyers perform in the industry." The courses provide a thorough education in the business and art of wine, including trainings on intellectual property, regulation and taxation, employment issues, wine production and advertising, business funding models, and even wine tasting and the history of wine.
Of Gonzaga's certificate Davis note that it "was a really great way to challenge myself as a lawyer and reignite my interest in learning about the law while diving deeper into something I really enjoy outside of work," she says. "The program really achieves a nice mix of legal and business information and engaging courses about wine more generally." And now that she has moved to Oregon's wine country, Davis hopes to become part of the wine community "as more than just consumers."
About the Gonzaga University Wine Institute
Gonzaga University's Wine Institute is designed to be a premier resource for lawyers and business professionals involved in the wine industry and is proud to offer the Certificate in the Legal and Business Aspects of Wine. Through classes taught by top professionals to immersion trips to successful wineries, this program gives participants a unique education on wine law and business.
Learn more at gonzaga.edu/wineinstitute