Partnership Spotlight - The ZoNE Project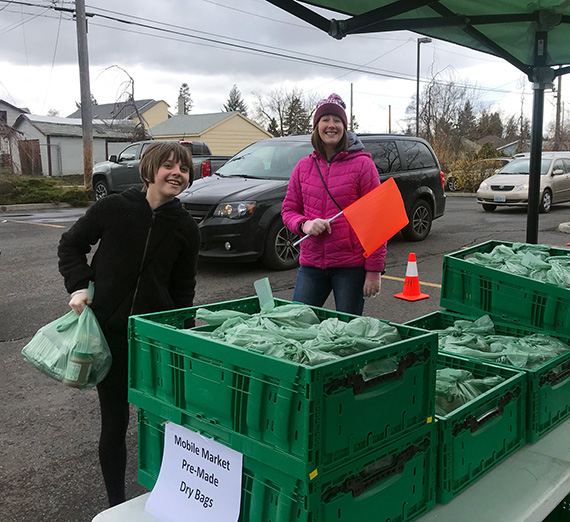 ---
Gonzaga University partners with many organizations in Northeast Spokane – and today we introduce you to the collective impact efforts of The ZoNE Project, where Opportunity Northeast is a foundational partner. We are proud to partner The ZoNE on such activities as:
Wolff Student Fellowships to support the ZoNE's family resource coordination and communications strategy
COVID-19 Food Security & Critical Need Response Efforts
Resident leadership program and training with the School of Leadership Studies
Student fellowship support of Summer in the ZoNE activities
The ZoNE Project
By Amber Waldref, ZoNE Project Director
What does a student need to be successful? What does a family need to thrive? How can a neighborhood be more connected? These are complex questions many people have come together to answer in Northeast Spokane through a multi-sector community initiative known as The ZoNE Project.
In 2015, a young administrator at Shaw Middle School, Andre Wicks, began looking for solutions to complex issues facing students in NE Spokane – children entering Kindergarten less ready to learn, youth coming to school hungry, and disproportionate exclusionary discipline of students of color, just to name a few. He began researching national models like the Harlem Children's Zone that have successfully layered multiple strategies in a certain neighborhood, tracking measurable changes over time. Gonzaga University was also exploring place-based engagement at the time, and together with Wicks, investigated emerging models and best practices.

In 2017, through a partnership with the City of Spokane, The ZoNE Project emerged and soon, over 50 organizations, including Gonzaga University became allies and partners in an effort that is creating positive change for Spokane families.

Complex social problems are affected by large and interdependent systems that no single organization can change alone. Thus, the need for collective impact. The Northeast Community Center acts as the backbone for The ZoNE Project, hiring staff that convene cross-sector organizations and residents to design strategies, help catalyze actions and resources, and track data to measure impact. Four action teams are focused on:
Increasing Access to Healthy Foods
Expanding access to After School/Summer Learning
Creating new Employment Pathways for Youth and Adults
Increasing Mental Health through Peer Supports and Cultural Connections
Family Advocates walk alongside families, providing one-on-one mentoring and referrals to high impact programs such as resident leadership courses (offered in partnership with Gonzaga U). Family Resource Coordinators help support systems change in schools by engaging parents, increasing school attendance and building community.
Since the COVID 19 pandemic hit, deep health and economic inequities by race, gender, income and zip code in NE Spokane have become further exposed – especially with students not able to access what they need and families losing income and childcare. Partners in the ZoNE Project have sprung into action. Together, we are supporting families in weathering this crisis by delivering culturally-preferred food and education supplies, providing outlets for social-emotional support, and advocating to Government and Civic leaders to "build back better" so that our systems can be more equitable and our communities, more resilient.
"It takes a village to raise a child" is an African proverb that means an entire community of people must support children for those children to grow in a safe and healthy environment. In Northeast Spokane, many children and families experience systemic barriers to achieving their full potential. By respectfully partnering with families and schools and having the courage to change systems (including our own organizations and how they operate), The ZoNE Project is well positioned to have a measurable impact on children's lives and the neighborhoods of NE Spokane.
To learn more or get involved, please contact Amber Waldref, ZoNE Project Director, at awaldref@necommunitycenter.com or 509-868-9219.