Designing Rosaries in an Act of Faith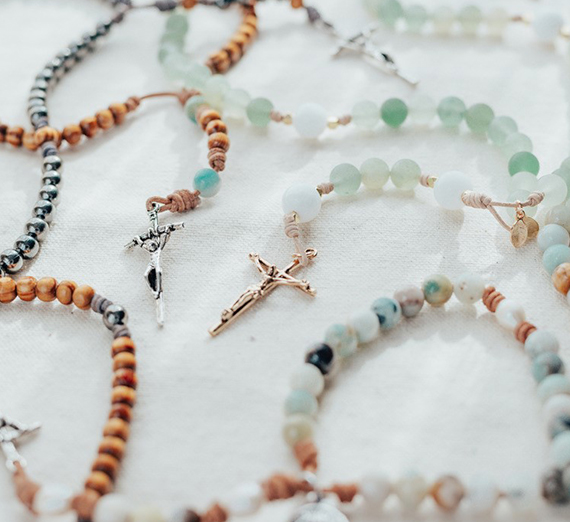 ---
Striking teal gemstones nestled among polished, wooden prayer beads make up the rosary. The Miraculous Medal lies at its centerpiece, with a silver crucifix hanging on earthy cord. It's named "Wedding of Cana," after the scripture verse where Jesus performed his first public miracle.

"These wooden beads are meant to bring you back to the barrels that held the miracle of the water turned wine at the wedding at Cana. This story reminds us of our Blessed Mother Mary, who always knows the needs of her children and intercedes for us to our Heavenly Father," reads the description.

The rosary is one of many handcrafted pieces sold by West Coast Catholic, a business sprung from two young members of the Gonzaga alumni network.

Gonzaga alum Mari Cuevas ('20) started the West Coast Catholic Instagram blog in summer 2018, just before her senior year. While interning with FOCUS, a Catholic collegiate outreach organization, Cuevas was inspired by her colleagues. It was the first time she had met young people who were extremely passionate about their Catholic faith, in addition to being super fun.

She noticed that most of them were from the Midwest or East Coast. "The West Coast is in desperate need of positive voices of faith," Cuevas said. Hoping to foster a more local community of faith, Cuevas expanded the Instagram blog with a new feature.

Trey Wagner ('21), Cuevas' fiancé, had learned to make rosaries at a summer camp. For Cuevas' birthday one year, he made her a personalized rosary with beads she had selected.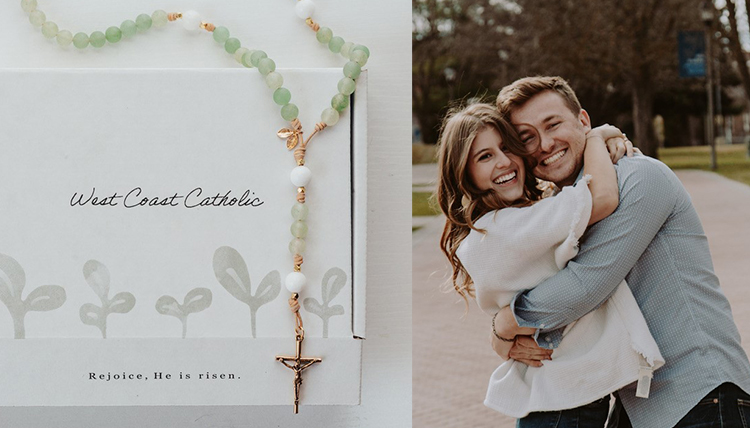 Cuevas admitted she always thought of praying the rosary as something her grandma did, but the beauty of the gift attracted her to an increased practice of prayer. She wondered if aesthetic, modern rosaries would bring others closer to their faith as well. So she started an online shop, where she designs and sells rosaries created by Wagner.

Now, West Coast Catholic sells rosaries, prints, stickers, and woven bracelets with more ventures to come soon. With many items currently sold out and the blog racking up 12,000 followers, it's clear that Cuevas' voice for the West Coast has been heard.

As for her future, Cuevas hopes for a beautiful wedding shared with family and friends.

"And to always be doing work that I'm passionate about," she said.