For Graduating Senior Frannie Nevil, Nothing Is Black & White
A Passion for Learning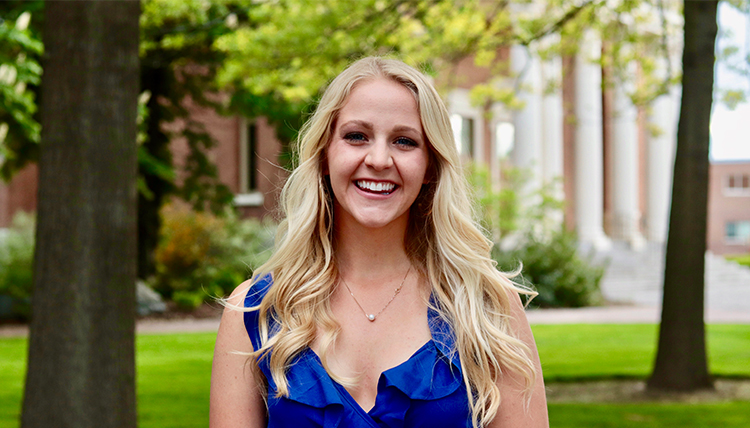 SPOKANE, Wash. — Francesca Nevil, a May Gonzaga University graduate with a double major in international relations and sociology, has spent the last four years living by one principle instilled in her by her mother.
"Nothing in life is black and white," Nevil said. "Everything in life is more complicated and multifaceted than we think, and it's our responsibility to seek to understand and not make judgements early on."
Known to friends and family as Frannie, Nevil grew up in Wenatchee, Washington, and was drawn to Gonzaga after being introduced to the multitude of study abroad options offered. As a student of foreign affairs, travel is intrinsic for Nevil.
She spent the summer and fall of her junior year in Cali, Colombia, studying the peace process and Latin American history. Nevil broke boundaries with this trip, becoming the first Gonzaga undergraduate to study abroad in Colombia. After her return, Nevil decided to travel more and spent her spring semester in Washington D.C., studying international peace and security while working an internship with the International Justice Mission.
Even having spent so much of her time off-campus, Nevil managed to develop deep relationships with both her professors and peers.
"Gonzaga professors have this ability of really individualizing their students and really wanting to walk with them," Nevil said. "They help us to see our greatest selves; sometimes I think we're blinded to that."
One professor who stood out to Nevil is Joe Johnston, an associate professor of sociology and criminology. She believes Johnston has an impeccable ability to listen and see students exactly where they are, characteristics that moved her during her time at Gonzaga.
"Frannie has the emotional maturity of at least a 35-year-old," Johnston said. "[She is] perhaps the most dependable, initiative-taking student that I have had the opportunity to know during my five years at Gonzaga University. She is amazing."
Nevil believes this level of maturity and understanding was something that was further developed through humility and empathy at Gonzaga.
"Going into Gonzaga I think I felt really high and mighty and I thought I knew the world," she said. "I learned really early on that I didn't and that I had so much to learn."
With this realization, Nevil became determined to lean into her discomfort, a move that allowed her to broaden her skillset and led her to work in policy and advocacy.
Nevil participated in the Justice in January program hosted by the Gonzaga Center for Community Engagement (CCE) three out of her four years. The immersion trip explores the realities of immigration and border issues along the United States-Mexico border.
According to Johnston, Nevil made the newest site location in El Paso, Texas and Juarez, Mexico a reality.
"Frannie and the other senior put a ton of independent work into reaching out to prospective partners and developing a weeklong agenda on their own," he said. "This is just one story that encapsulates Frannie's uncommon ability to take initiative and be exceptionally dependable."
Additionally, Nevil volunteered with World Relief Spokane as a Match Grant Intern. In this position she helped orient and teach refugees about life in America with the added service of using matched private donations to give refugees the opportunity to gain early employment and subsidize living costs.
"If I could do a lifetime of internships, a lifetime of learning from different people, I would."
The best advice she can offer to incoming first-year students falls in line with this mentality.
"Go in with an incredibly open mindset and recognize that this is an amazing place to learn and grow, develop new perspectives and to be challenged," Nevil said. "Just let that happen and lean into the discomfort."
Nevil's postgraduate plans, like so many others now, have taken a difficult turn in light of the coronavirus pandemic.
"It's been really frustrating," she said. "I knew going into the nonprofit sector would be challenging and there are already limited resources and positions open, but I feel like I'm in the same place today as I was nine months ago."
After securing an internship and then learning it was cancelled due to the pandemic, Nevil is continuing her job search while maintaining a positive outlook.
"It's a really unique gift to have this extra time with family," she said. "I don't think I've spent more than two weeks at home since I left for high school."
As she reflects on her time at Gonzaga, Nevil's parting thoughts reflect the attitude she maintained and developed during her four years: never stop learning and growing.
"There are so many challenges Gonzaga is facing right now, which has been a serious reality check to experience, no institution is perfect," she said. "Gonzaga has so many areas that need to grow and change, but in the same sense, Gonzaga has been able to give myself and so many other this remarkable experience. Knowing that there is still work to be done gives me a sense of peace. Again, nothing is black and white."
Academics
Alumni
Careers & Outcomes
Student Life
College of Arts & Sciences
Alumni
International Studies
Sociology
News Center