Living & Learning: Finn Semling on His Formative Years at Gonzaga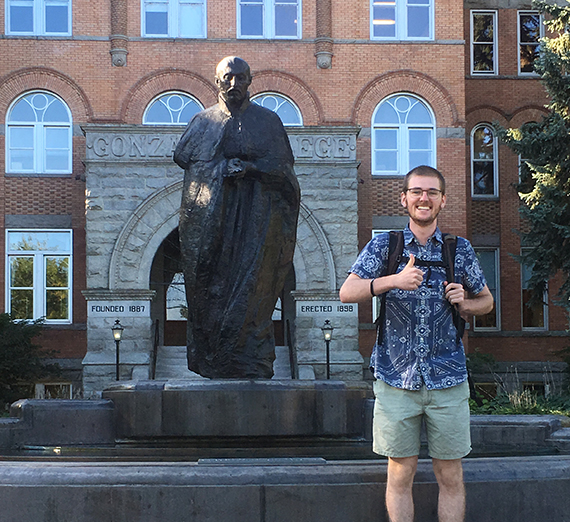 ---
SPOKANE, Wash. — When graduating Gonzaga University senior Finn Semling was making the big decision of what college to attend, there was no gut feeling, it wasn't fate, it just made sense.
A mechanical engineering major from San Rafael, California, Semling approached his decision with all the calculation expected of a budding engineer. He had, however, one stipulation that aligned him with Gonzaga's mission to develop as a holistic person — he needed an art program.
Gonzaga delivered an accomplished art program to accompany the rigors of engineering, and what began as a sensible decision to balance his education morphed into a second home.
"It wasn't like I immediately fell in love with Gonzaga," Semling said. "It was one of those things where I was unsure and then every year you just fall in love more and more. And then you get to this point as a senior where you're like, 'I can't believe I have to leave this place.'"
Semling attributes this love to two standout parts of his experience: the community and the professors.
"I know everyone says the community, but you can't say it enough. The guys I lived with freshman year were the exact same guys I lived with senior year in my house. That just doesn't happen anywhere else."
A large part of that community for Semling became the relationships he made with professors. He appreciates how he could go into office hours with a class-related question and steer it into "life talk" and his professors were always open to it. One question could easily morph into a three-hour chat.
"They became a part of my support system that I could go to and just ask questions," Semling said. "They became more than just professors, they became mentors."
Semling's lust for learning is evident in not only his profound ability to form relationships but in his art.
In the 2020 Senior Art Catalog showcasing Semling's art, he said, "My work is about humans experiencing relationship and decision. Finding ourselves in different contexts in life, we are presented with encounters that form us, heal us, and destroy us."
For Semling, one of those formative encounters became Gonzaga, and from this he draws his advice for incoming first-year students.
"College is fun but there are very few times in life, and there are very few places like Gonzaga, where you can really form yourself, really become a better more holistic person," he said. "I should have realized that this was really a chance for me to grow and to change myself and I should have prioritized that."
Semling, who received the Hogan Scholarship among other financial support from Gonzaga, is now working for Pacific Gas and Electric (PG&E) in California. His position as field engineer allows him to see and work on remediation and public safety projects. PG&E has been scrutinized for its involvement in several California wildfires, yet Semling is able to see the big picture.
"This is what a Gonzaga education does to engineering," Semling said. "We start to see the grander scheme of what the utility provides and that it's not only necessary for the leisures and luxuries we have, but also for safety, for communication, for all these staples of society. And I get to be a part of the team that makes the utility even better, even safer, even more reliable."
While Semling may be settling into the postgraduate world, he remains restlessly committed to lifelong learning without boundaries.
"I'm going to miss being in school," Semling said. "I know people complain about the homework, but when's the next time your sole purpose in life is going to be just to learn?"
Check out Finn's work in the 2020 Senior Art Catalog
here.
Academics
Alumni
Student Life
School of Engineering & Applied Sciences
College of Arts & Sciences
Alumni
Undergraduate Admissions
Honors
Mechanical Engineering
News Center