From Hollywood to Gonzaga, With Love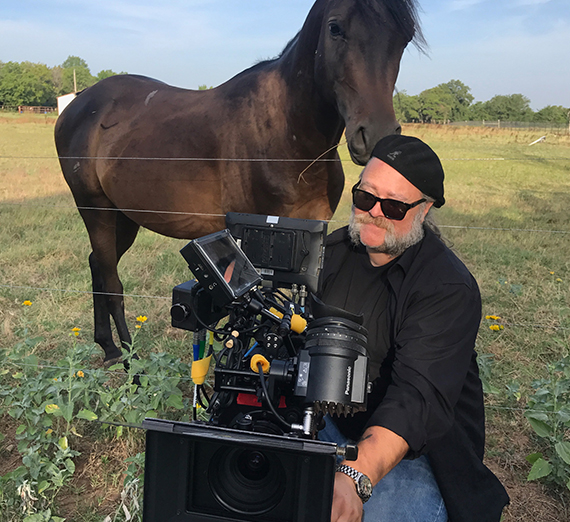 ---
Wearing a zip-down sweater, cargo pants, Carhartt's or an occasional kilt, his long hair pulled back in a ponytail, topped with a beret, has become his calling card.
That earned Kurt Nolen recognition during his 15 years in Hollywood as a set camera operator, not to mention his outstanding work, which has been honored by the industry. He worked motion pictures and television, documentaries and industrial shoots. But his favorite work, and biggest paychecks, came from shooting commercials.
He tells about shooting a Japanese cosmetic company commercial with a model on the lava fields of the Big Island in Hawaii. His biggest worry was jumping across a deep and wide crevasse and missing his landing, or shearing his leg on the razer-sharp spines of the field's outcropping, just to get the right shot. It all worked out, the commercial was a success, and it was one of his favorite projects.
In October 2018, Nolen made the third – and he hopes final – career change in his illustrious life. He loaded up his wife and kids, and moved away from Beverly, Hills that is; no more swimming pools or movie stars. He came to Gonzaga as its first full-time videographer, working in Marketing and communications. Here he shoots video for projects and presentations, marketing campaigns and presidential events. He helps plan the shoots, executes them, creates the video story and when needed, creates original music to complement the visual. Through his creative endeavor, he tells impactful stories through his lens.
Like those of residents and shopkeepers, educators and administrators in the Northeast neighborhood, for the introduction of Opportunity Northeast through Gonzaga's Center for Community Engagement.
"It's one thing to know our mission, but another to see it in action," Nolen says. "Seeing the impact our mission and community focus has had on where we live is very rewarding. It makes you realize you picked a great place to work. When I left Hollywood, I wanted to use my craft for something good. I'm actually filming the essence of my workplace and what makes this community great every day."
"Kurt's process and work speaks to who we are at Gonzaga – a community that seeks to recognize the beauty and the dignity of the person (or persons) in front of us," says Molly Ayers, director of the Center for Community Engagement. "He takes time to understand the "why" behind the work and it is seen in the quality of his digital pieces. We are lucky to have a colleague like Kurt who brings with him a level of professionalism, quality and understanding that speaks to our mission."
The Formative Years
As a teen, Nolen moved to North Carolina and met his wife Tracy during high school in Raleigh. Influenced his by his grandfather's love of music, Nolen spent 15 years as a musician, doing studio and touring work as a guitarist, drummer and aficionado on the Chapman Stick (a guitar with a keyboard).
That career, while enjoyable, provided an unreliable stream of income. He sold his last Chapman Stick for a down payment on a car.
"When I was 12 or 13, I saw this behind-the-scenes featurette on the making of the movie Aliens," Nolen says. "It showed footage shot by a Steadicam operator, and it looked like a blast. The equipment weighs 100 pounds, people yell at you all day long, but it seemed like a real cool gig."
So, he went to work earning a bachelor's degree in broadcasting and cinema, with a concentration in cinematography, at University of North Carolina-Greensboro. He took a number of seminars in experimental film and the art of the moving image at Duke University, perfecting his skills. Then he and his wife moved to Hollywood, where he earned a heralded reputation for his work on a Steadicam – an operator-worn passive video camera stabilizer system.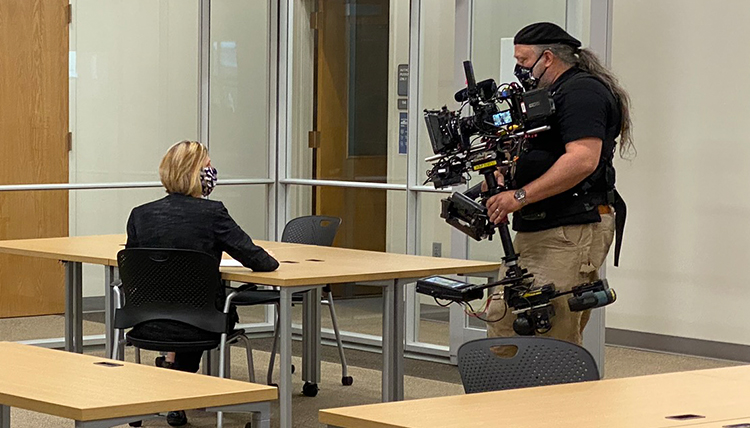 Nolen sometimes pack 100 lbs of gear to operate a steadicam.
Welcome to Hollywood
He found himself in the presence of stars, but always avoided conversation with them. "A movie set is a very fast-moving, political place." It turned out to be a mixed bag. "One Oscar winner would be a jerk on the set, while another would send their assistant to get you a cup of coffee," Nolen says. "The film industry is not like people think it is," he continues. "There's nothing glamorous about it. It's more like construction work. You utilize your craft to build your part of the movie. Editors take all of the parts and piece together the film."
He was ready for a change when the Gonzaga job opened up. The industry was no longer the workplace for precision professionals like Fred Astaire and Ginger Rogers, who perfected their craft. He found himself shooting film for shows trivializing school shootings as an intro to humor. "When you see the finished product, you don't feel like you have done a good thing.
"We had a second child. My shooting schedule involved a lot of travel. From early on, I always wanted to be involved with higher education. My job here is to make something look very polished, without a lot of money and resources. 'The house film maker.' I do the same thing that I did every day in the film industry, but now I edit my own stuff," Nolen explains.
Here he is often producer, shooter, editor and audio specialist. He likens shooting video to playing music. And the artist in him loves it.
"I get to work better hours and get home in time to have dinner (most nights) and put my kids to bed," he says.
"Kurt brings a level of professionalism that is forged by years of working in the top tier of the most demanding fields when it comes to music and entertainment. It's an honor and privilege to work with and learn from him, and, in my opinion, he's one of the most valuable assets this university has when it comes to public relations," says Jim Ryan, digital content producer for Virtual Campus.
Nolen finds the best part of Gonzaga is not only its commitment to its mission, "but in how we act on that commitment and back that up with our deeds. Knowing I'm doing my work in a positive environment makes it feel like it's not work at all," says Nolen.
His wife Tracy Nolen, a doctor of public health, is a research scientist working on the peripheral effects of the COVID-19 virus on the human body. They have two sons, Aubrey (6) and Archie (2), and like many among us, they are doing their best to create some normalcy for their children during this time of crisis in America.
"It's a tag-team effort. We both have demanding jobs, but our focus here at Gonzaga on family and work-life balance has allowed us to engage our children, take a walk or go on a bike ride with them. It makes a positive difference in our lives."
It's music to his ears.