Professor Emily Clark Earns Grants to Finish Spiritualism Book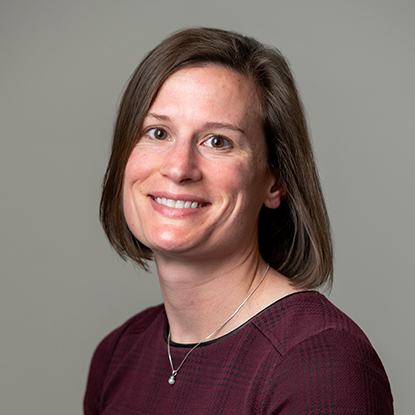 ---
It's a crisp summer day, bordering on too warm, but you're walking in Browne's Addition with an aim for lemonade. Sitting with your drink on a sidewalk bench, you spy a sandwich board; its message reads, "Seance this way…" with an arrow pointing towards the old Campbell house, a historic Tudor ran by the local museum. You could finish your drink and indulge your curiosity, or you could walk away. It's an opportunity to choose your own adventure, or according to the work of Religious Studies Associate professor, Emily Clark, to communicate culture, or tell stories, digitally.
That's at least her hypothesis with a recent project undertaken after attending the Digital Humanities Summer Institute (DHSI) course on Digital Storytelling last year. Clark created the choose your own adventure project with a pedagogical focus - to give her research an interactive touch, and to showcase how a week's worth of time can create a simple, elegant complement to teaching. If you want to play, go here.
Her work on the game is one of several steps towards gaining multiple grants to support her research on her upcoming book, "Spiritual Matters: American Spiritualism and Material Culture," which investigates the importance and use of materiality in Spiritualism. The book is currently under advance contract with the University of North Carolina Press. For those who don't know, modern American Spiritualism is a religion that first became prominent in upstate New York during the late-1840s, later spreading across the United States, Western Europe, the Caribbean, and South America. The religion focuses on communication with the deceased through seances, written communication with a planchette (those familiar with Ouija boards would recognize the heart-shaped moveable piece), table-tapping, and more, usually conducted in a person's home by invitation.
With a $40,000 Sabbatical Grant for Researchers from the Louisville Institute and other grants totaling $13,000, Clark will be able to dedicate a full year to researching and writing her book. While parts of her research were canceled due to the COVID-19, Clark will have to postpone her archival research until 2021. "Using the research funds I received from the American Academy of Religion, the American Council of Learned Societies, and the American Philosophical Society, I hope to spend time at archives in Philadelphia, Boston, New Haven, and the Bay Area. Since travel is impossible right now, I have worked with digital archives and published sources in the public domain. I've found a way to pivot and look forward to a hopeful return to research normalcy next year."