Welcoming Professor Brajcich as Graduate Accounting Programs Director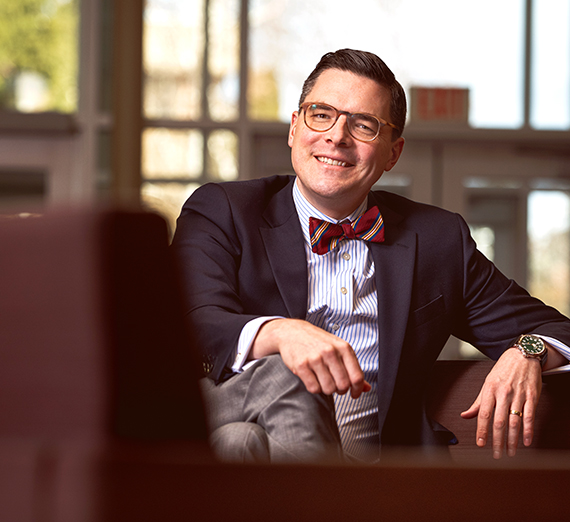 ---
The Graduate School of Business welcomes incoming Graduate Accounting Programs Director, Associate Professor Andrew Brajcich, J.D., LLM, CPA. His tenure will become effective at the end of May.
Professor Brajcich teaches challenging tax accounting courses both at the undergraduate and graduate levels. He is passionate about the subjects he teaches, and he is known amongst his students for his attentiveness, both in office hours and via email—responding in record times. Beyond the classroom, he takes an interest in each of his student's educational and career goals, serving as faculty advisor to many accounting students. Recently, he has also taken on the role of Beta Alpha Psi faculty advisor, supporting the chapter's student officers and helping establish connections between employers and Gonzaga accounting students. We invite you to hear directly from Professor Brajcich in the Q&A that follows.
What motivated you to pursue the Graduate Accounting Programs Director position?
I teach most of my load in the MSTax program so it seemed like a natural fit. The small classes and Gonzaga culture foster a personal connection with students. That connection makes me passionate about their success. When Dr. Weber announced he would be stepping down, I started to think about the added value I could bring to those students through the role of Director. That started a conversation with the SBA leadership that led me here. I'm excited and humbled.
Coming from a family of Zags, what do you think is the best thing about Gonzaga?
The students. My job is pretty easy because we get the best students. Students who are motivated and care about the impact they make in life. There's something about Gonzaga that attracts special people. It's exciting to be a part of their continued professional development. A few years back Gonzaga had a campaign with the slogan, "Educating people the world needs most." There's even more truth to that saying today.
Tell us some interesting facts about you!
Oh jeez. I served in Peace Corps in the Republic of Georgia, studied for a year at GU-in-Flo (no semester program back then), summited Kilimanjaro, am undefeated in court (3-0, all uncontested hearings), married a woman WAY out of my league, have two perfect sons and an overweight pure-bred cat, used to ski race, majored in MIS in addition to accounting at GU, my arms are disproportionately long for my body, and thanks to the pandemic, have now confirmed I cannot grow a beard.
Biography:
A fourth-generation Zag, Professor Brajcich joined the faculty in spring 2012. He has been recognized thrice by students as the MAcc/MSTax Outstanding Faculty of the Year and was named by the financial literacy and education website nerdscholar.com as one of the "2015 Top 40 Under 40 – Professors Who Inspire." Andrew previously worked in the International Tax Services group at Deloitte Tax LLP. His research focuses on international, individual, and S corporation tax and his work has been published in The Tax Adviser, The CPA Journal, and The ATA Journal of Legal Tax Research. He also teaches continuing professional education throughout the country and currently serves on the Board of Directors for the Washington Society of CPAs.