Gonzaga Online Student's Story: Zags Creating Connections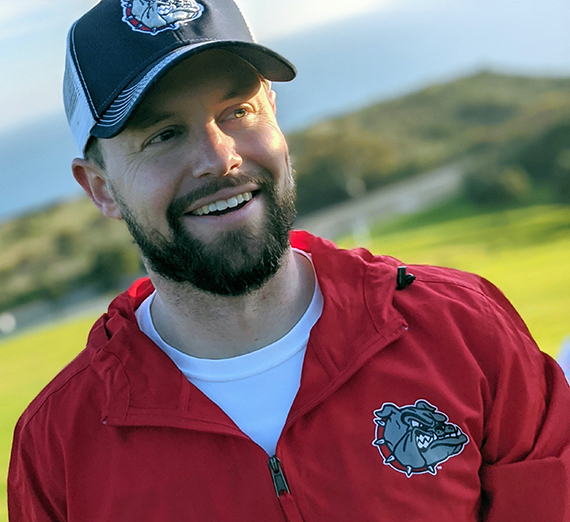 ---
Online Student Experience at GU: Quality, comradery and accountability
With the onset of algorithms and targeted marketing campaigns, a prospective online student will undoubtedly find themselves inundated with university ads while browsing the Internet or checking their email. When I'd begun looking for my next academic opportunity, it was certainly my experience.
I'd played sports in high school in the early 2000's. I went to a small school and I'd understood my limitations as an athlete then, but I imagined that this attention was what it feels like to receive interest from large athletic programs throughout the country. Colorful banner ads constantly littered my browser:
"Flexible online schedule!"
"It's not too late to apply!"
"Brian, be a (insert mascot) today."
These ads were like little digital hats lined up on my desktop table on selection day.
So, whose colors was I going to wear? Athletes take careful time to consider how a program would benefit their skills and take their game to the next level, why should my choice, as a working professional, be any different? I'd visit countless websites, consulted with close family, and surveyed respected leaders in the workplace. Their feedback? Real value comes from work and building community with those around you.
At GU, the tired online learning mantra "login, pay, print diploma" is not acceptable; here, we require relationships. By empowering its online students with the ability to create communities, the university has turned digital strangers into a virtual family. My new Zag relatives are working professionals and students from around the world, and exist in a virtual setting as diverse as the campus itself.
If my classmates are my team, then we are supported by our coaches. The faculty at Gonzaga University have challenged me to expand my understanding of the human experience, and apply my current skill set to new landscapes that I had not been introduced to before. I am a more competitive candidate for promotion and a better person from having almost completed this program. I owe a great deal of gratitude to the professors and administrators who have guided me through the experience.
There may be many hats to choose from on your table, but none will provide the deep connections, the challenging curriculum, and endless support that the Blue and White Bulldogs hat can.
At Gonzaga, "online learning" is simply "learning." In a time where community has mattered more than ever, it's never been more valuable to be a Zag.