Partners in N.E. Spokane Team Up to Provide Free Meals for Adults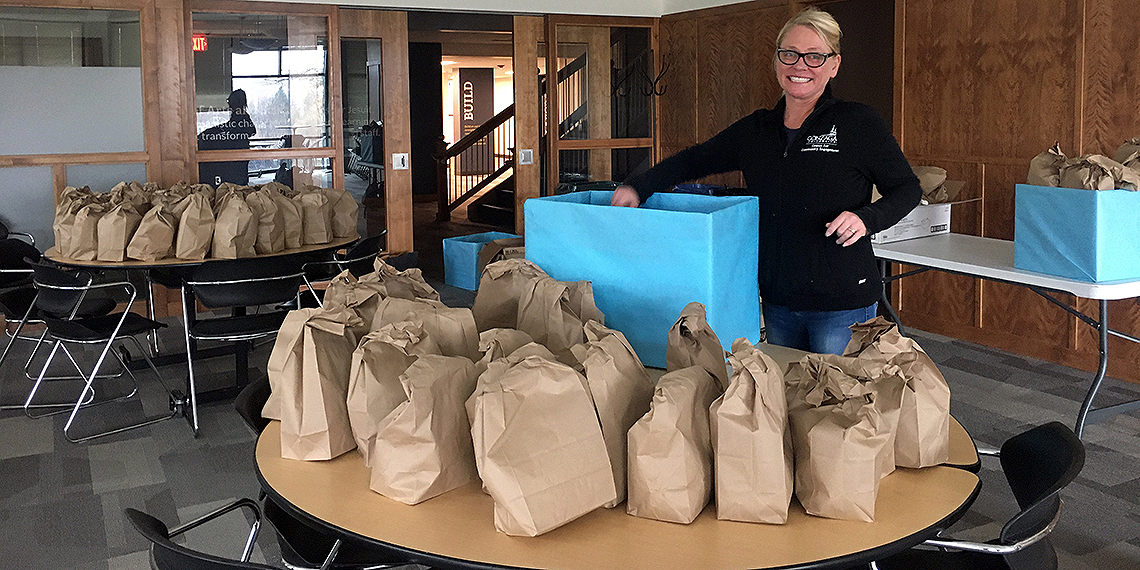 Team Serves 900 Healthy, Take-away Meals Weekly
SPOKANE, Wash. — With the closure of schools and the economic impact of COVID-19 hitting families, the need to support food access is more urgent than ever. Free and reduced-cost lunch programs in school districts are available only for youth up to 18 years old. What about adults?

Gonzaga University and its Campus Kitchen program, Sodexo Food Services, along with Logan Elementary School and John R. Rogers High School are teaming up to provide approximately 900 healthy, take-away meals for adults each week.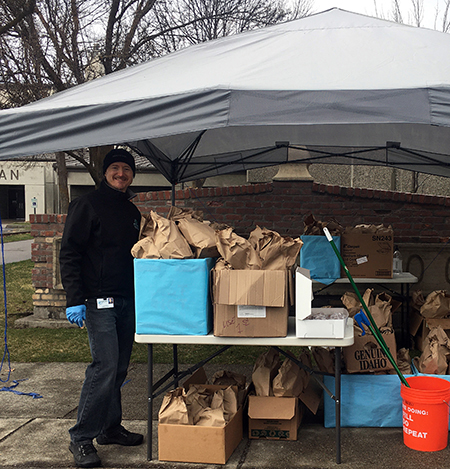 Sodexo and GU's Campus Kitchen are supporting the production and delivery of the meals. Logan Elementary School and Rogers High School serve as hosts and distribution points. Gonzaga champions the effort with volunteer coordination and support through its
Opportunity Northeast
community initiative. Funding has been offered by a single anonymous donor.
"Logan Elementary benefits daily from amazing partnerships it has in the community and this is one more example," said Brent Perdue, principal at Logan Elementary School. "We have been able to provide one meal each day for adults in our neighborhood since this crisis began through support from No Li Brewhouse and GU's Campus Kitchen, and have been facing the realization that this support was coming to an end on Friday. To learn that an anonymous donor has stepped in to help fill a very real need in the community that surrounds the University has left me speechless. What an amazing gift!"
Gonzaga and Sodexo embraced the opportunity to help.
There are many ways to help. Learn more about how you can provide assistance:
"Our Logan Family Meal program on Tuesdays has been vital for families," said Molly Ayers, director of Gonzaga University's Center for Community Engagement which oversees Opportunity Northeast. "The weekly event brings people together, but that's not what life in the time of COVID-19 calls for. People still need nourishing meals, and it's a privilege for us to coordinate with our partners to continue doing what we can to help."
The effort is the first of several possible programs Sodexo is eyeing, according to Pat Clelland, director of Sodexo's operations at Gonzaga.
"With most GU students now at home, we have facilities and infrastructure that can be put to good use for our community, and this project provides time for our associates who might not otherwise have the work," Clelland said. "We're also increasing production in our hydroponic greenhouse to provide fresh produce for our neighbors, and other programs that help alleviate hunger."
With safety in mind, the meals are delivered curbside to families. Program volunteers and staff abide by social distancing regulations.

"Gonzaga's Campus Kitchen program teaches our students the power food holds to bring people together and build community," said Emily Banick, Campus Kitchen program manager at GU. "Although we now need to distance ourselves, it is important for us to continue to build community through food by safely distributing to-go meals to families in Northeast Spokane. This is vital work."

The Campus Kitchen is a hunger relief program that focuses on food recovery, eliminating waste, and building community. The program collects all of the unused food from campus dining and utilizes student volunteers to re-purpose that food into healthy meals that get delivered to low-income senior housing, after school programs, and shelters in the Spokane community.
Opportunity Northeast, Gonzaga University's place-based community initiative is dedicated to improving the quality of life for individuals, youth and families in Northeast Spokane while creating transformative learning opportunities for our University's students, faculty and staff.
For information about Opportunity Northeast, visit www.gonzaga.edu/ONE.
Diversity & Inclusion
Faith & Mission
Service & Community Impact
Community Action and Service Learning
News Center