Two Professors, One Goal: World-Class Neuroscience Education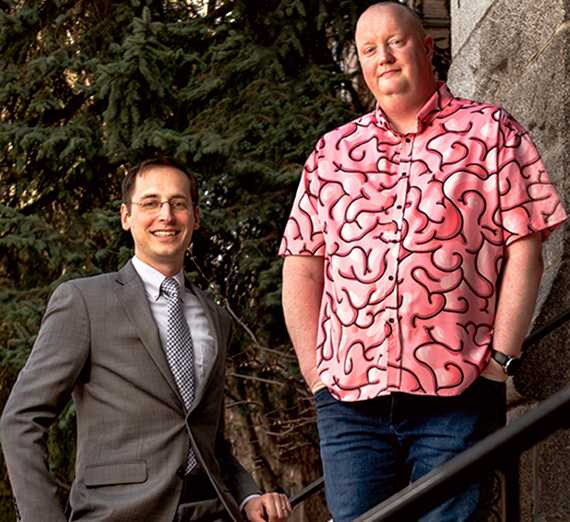 ---
A neurophysiologist and a neuroanatomist walk into a classroom… and the result for medical students and undergraduate students alike is a dynamic collaborative learning experience that demonstrates different ways to understand neuroscience – and the vibrant connection between science and the humanities.
The initial exploration of neuroscience can be both daunting and exhilarating for first-year medical students. The experience becomes even more valuable when instructors with very different approaches to the topic join forces to present a comprehensive and dynamic approach to the intersection of science and humanity.
In Spokane, Zach Gallaher and Kevin Measor share instructional duties for the neuroscience portion of the medical school curricula. Each earned a doctorate in neuroscience and have, for the past three years, brought their own personal styles and professional experience to the course, providing medical students with a platform for further exploration of more advanced brain functions including sensory processing, memory, planning, and emotions, and clinical topics such as mental illness, pharmacology, and damage and regeneration.
Gallaher, a member of the UW School of Medicine biological structure faculty, and Measor, a member of Gonzaga's biology faculty, describe their approach as a "team effort" that uniquely benefits the students.
An introduction for undergraduate students
This year, for the first time, Measor and Gallaher teamed up to teach a Gonzaga undergraduate neuroscience course, presenting an unprecedented learning opportunity.
While a typical undergraduate neuroscience lab course begins with a dissection of a sheep brain, Measor and Gallaher were able to provide human brain specimens. Students held and examined the human organs as they learned about the various regions of the brain and its functions. And, because of the small class size (10 students), they had the time to explore their questions one-on-one with faculty.
"Because of the interdisciplinary nature of the field, we have different expertise," said Measor. "I am a neurophysiologist and Zach is more of a neuroanatomist. Between the two of us we cover a large amount of the topic and we use this to impart different lessons to the students about the material they are learning."
Measor describes Gallaher as "masterful" in teaching students about the ways that subtle details fit together to make up a larger picture of a functioning nervous system. Measor describes himself as "more of a storyteller" who uses a broader narrative to then highlight the utility of small details.
It was a remarkable experience for the young biologists, one that would not be possible without the GU-UW partnership.
"This is an experience you probably wouldn't find anywhere else in the country" said Measor.
"It provided an opportunity for us to hold a class discussion about the donors who make this type of learning possible and the tremendous responsibility we have as scientists and educators to learn as much as we can from this material, and disseminate that knowledge." says Gallaher. Measor affirms the powerful impact the experience had on the GU undergraduates. After all, Measor says, neuroscience is far more than simply understanding the brain and how it functions.
"It is a humanistic exploration of the biology that manifests the human experience. We can connect this to behaviors, history, philosophy, and discovery," he says. This type of direct connection between the sciences and the humanities is something that both Gonzaga and the UW School of Medicine value very highly.
"It's also a shared mission that I believe makes our partnership so powerful," Measor concludes.
Because the lab portion of this class concluded prior to spring break, students were able to experience the human specimen model in its entirety, before the COVID-19 pandemic shelter-in-place order halted in-person classes.