Fr. Dan Mai, S.J.: Jack of All Trades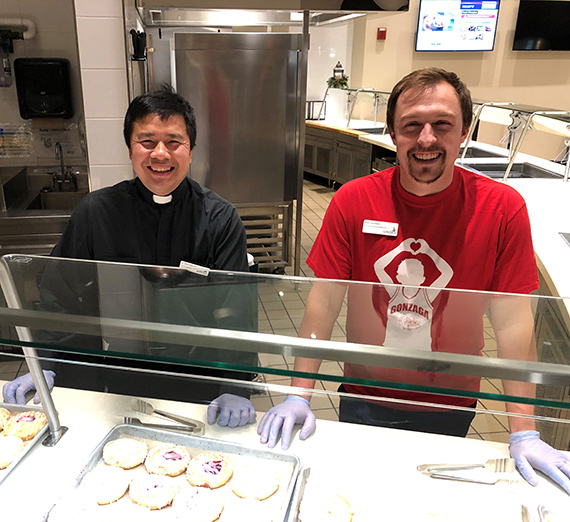 ---
Gone are the years of Jesuit abundance on campus. With the decrease in the number of members of the society throughout the world, Jesuits missioned to Gonzaga now take on work somewhat different than they once did.
Fr. Dan Mai, S.J. ('98 M.A. in Christianity and Culture, '99 M.A. in Counseling Psychology) is a great example of this new-look Jesuit; a man of few words and great action, who is constantly finding creative ways to say 'yes' to God's call all over campus.
An immigrant from Vietnam at the age of 12, Fr. Mai spent 30 days on a boat coming to America. In his life since, he has felt overwhelming gratitude that continues to drive him in everything he does.
Along with his duties as a Jesuit specialist in Mission and Ministry, he serves as the minister to the Della Strada Jesuit Community. While serving both our college students and his Jesuit brothers, it's hard to know what each day will bring, but Fr. Mai sees everything as an opportunity to give back.
"I want to be available to people and be a bridge builder," he says. "I love building things, physically, as well as facilitating the relationship between the Jesuit community and the University."
As an example, he spent several weeks in the early fall with a jackhammer in his hands, creating a new garden for the Jesuit community, while helping to create a weekly event for students to gather in Catholic community at Light Nights, and scheduling our Gonzaga community priests for their sacramental duties for the year.
Whether it's coming on retreat, driving a Jesuit to the airport, heling his family in Seattle, or serving a late-night meal in the COG before finals, Fr. Ma is a selfless giver of his time and talents. And if he doesn't know how to do something, he's always willing to learn. He says, "A college campus is dynamic and so full of hope and full of faith. It's also very life-giving to see people embody the spirit and the Jesuit tradition."
After meeting in February with Fr. Arturo Sosa, S.J. superior general of the Society of Jesus, and other
Jesuits, Fr. Mai feels reaffirmed in his mission to be
here.
"Where we are as a church right now, we are the 'People's Church.' It is my job to continue the spirit of collaboration with the laity. I do that through listening and through my actions," he says.
Able to walk in and out of cultures very easily, Fr
Mai also finds himself saying 'yes' to serving off campus, as well, travelling around the world to minister to people in remote and indigenous places. St. Ignatius said, "Love is shown more in deeds than in words," and it's obvious that Fr. Mai has embraced the saint's vision.