Wilson Family Five: Zags in STEM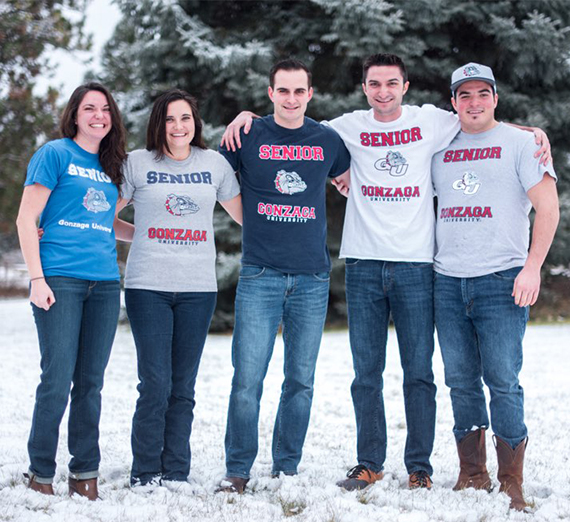 ---
Five Gonzaga graduates. Five STEM majors. One family.
Proud mom Lori Wilson recently shared this photo: All her Zags together in their senior year "Kiss My Class Goodbye" t-shirts.
The Wilson siblings have always followed their passions. Their parents, Scott and Lori, instilled in them the resilience to overcome obstacles and encouraged them to work hard for their goals. Meanwhile, growing up on their family's small farm fostered ample opportunities for exploring their creative and technical interests outdoors. Although as children and teenagers they shared a versatile education immersed in philosophy, religion, languages and arts, their shared talents in the maths and sciences drew these brothers and sisters down a similar path: Five of the six Wilson siblings graduated from Gonzaga with STEM degrees.
Teresa ('11 B.A. in mathematics) earned her doctorate in physics from Michigan Technological University and now works at the United States Naval Observatory in Washington.
After starting her career at Spokane's Providence Sacred Heart Medical Center, Madeline ('12 B.S.N.) now works at the Loma Linda University Medical Center Emergency Department in Southern California.
Joseph ('16 B.S. in electrical engineering) holds a government position in Virginia.
Michael ('17 B.S. in electrical engineering) works for a law firm in Denver as a patent engineer.
David ('19 B.S.N.) serves Spokane's Providence Sacred Heart Medical Center in the cardiac transplant and telemetry unit.
Learn the value of a liberal arts education for STEM fields.