Joey's, Dances & Lifelong Love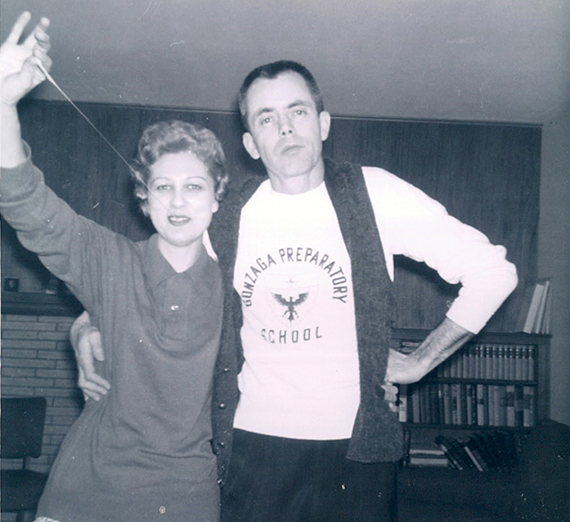 ---
When the weather's nice, Ed Thomas ('50) enjoys taking leave from his residence at Emilie Court Assisted Living to visit the Gonzaga campus, courtesy of a short drive with one of his children.
At 98 years old, Thomas is part of a shrinking number of grads from the 1950s or prior, and one of few remaining veterans of WWII who came to Gonzaga on the GI Bill®. While he doesn't like publicity, he admits that a short piece here is better than being in the magazine's obituary listing.
Hailing from Terry, Montana, a tiny town 80 miles from the North Dakota border, Thomas played basketball in high school, and then worked at Lockheed Aircraft in California for a couple of years before entering the service in 1942. On the advice of a friend who had attended Gonzaga, he came to Spokane after his military discharge in 1945.
Asked what he enjoyed doing for fun while a student, Thomas says, "Well, there was always Joey's," – the ever-popular tavern kitty-corner to campus, known today as Jack & Dan's. It was owned by Joey August, the boxing coach at Gonzaga who helped train Carl Maxey in the sport. Thomas (no relation to Maxey's teammate, Eli Thomas) remembers watching matches in the gym of the Admin Building (now College Hall) which housed pretty much everything students needed: classrooms, cafeteria, chapel, and a gym that doubled as a dance venue.
Ah yes, the dances. That's when the nursing students at Sacred Heart flooded to Gonzaga.
"That's how a lot of connections were made," says Thomas, including his own 'connection' to Lois, a nurse who became his wife.
Ed and Lois (RIP) had five children: Colleen (Keenan), Leslye (Hamad), Brian, Tim and Peter, all of whom attended 12 years of Catholic school in Spokane, at St. Charles, Gonzaga Prep and Marycliff. They also had two foster children from Cuba, who also attended Gonzaga Prep.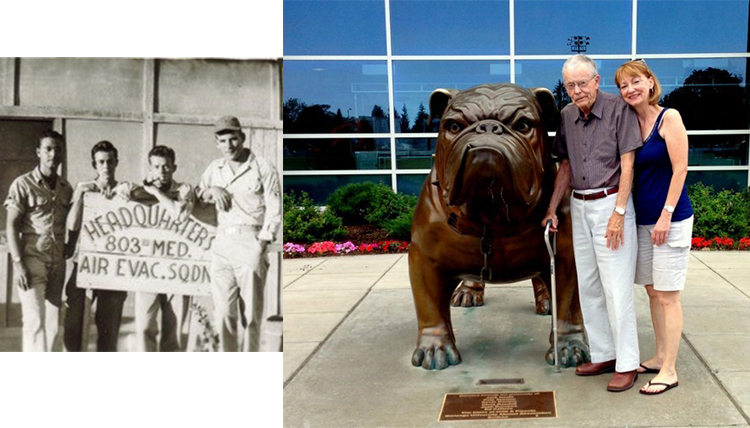 Above left: Thomas is second from left in this photo taken during WWII. At right, he is pictured with his daughter Colleen Thomas Keenan ('75) on one of many visits to campus.
As a business administration grad, Thomas took his first job out of college with auto credit companies as a collector. He was on the road across the Northwest for a time before he landed a role that promised regular office hours in Spokane. Ultimately, when the company started practices that Thomas says harshly impacted people who already struggled financially, he had to find something new. He had just begun at Washington Trust Bank when the chief finance officer at Sacred Heart Hospital offered him a position he couldn't refuse. He worked there 19 years and retired in 1990.
That was the era of Sister Peter Claver, a Sister of Providence who oversaw the design and construction of the main Sacred Heart patient tower that marks the lower South Hill horizon. She was a beloved leader throughout the Spokane business community, and a recipient of Gonzaga's DeSmet Medal. And she was Thomas' real sister, but he wasn't one to advertise that.
"I never tried to avoid her either," he adds. "She was a great sister. And if there had been a girls' basketball team when she was a student, she would have made a great basketball player."
Speaking of basketball, Thomas is one of many residents at Emilie Court to cheer on the Bulldogs faithfully. He keeps every year's team booklet and fills out a bracket for every tournament. Like many, he enjoys armchair coaching and has some advice about improving free throws, but he's not partial to any specific players, as he prefers a focus on the whole team.
"There's been so many good teams over the years," Thomas says.
We're rooting for him to see several more.
Send us your favorite memories from the 1950s-60s!