The Ties that Bind a Legacy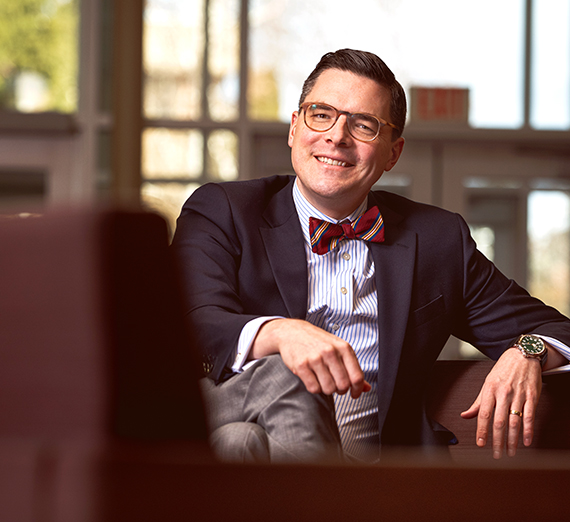 ---
Not a day goes by that I don't think about a lesson your grandfather taught me," said Gonzaga Regent Gerard Centioli ('76) to Andrew Brajcich during a tour of the Myrtle Woldson Performing Arts Center.
It was a meaningful moment, but it wasn't the first time Andrew heard a former student of his grandfather's sing his praises. Like Andrew is today, Dan Brajcich was a professor; he launched the accounting program at Gonzaga. During his 50-year tenure, thousands of students experienced Dan's unmatched sense of humor, commitment to academic excellence, and truly Jesuit sense of cura personalis. Andrew first became aware of this impact through the stories people would freely share.
"It was most evident when people could pronounce 'Brajcich' without help," Andrew explained. "They'd ask, 'are you related to Dan?' And then they'd tell a story about him."
Brajcich is one of 23 in his family to have graduated from GU; three others in his family have taught at Gonzaga. With such a ubiquitous family legacy, it made sense for Andrew to follow suit.
"Accounting and tax was something everyone in my family did," he said, "so I didn't look much beyond that when I was in college."
After earning his degree, Andrew went on to law school, but wasn't entirely sold on the idea of being a lawyer. He served in the Peace Corps and worked in various corporate roles before a stroke of luck brought him back to Gonzaga. While visiting campus on a recruiting trip for his employer, a former GU professor and mentor, Eddy Birrer, suggested he consider a career change.
"You know," Eddy said to Andrew, "we're searching for a tax professor, and with your degrees, you're academically qualified."
"It was incredible to have the confidence of my mentor like that," Andrew reflected.
Shortly thereafter in 2012, Andrew began his own journey on his family's path through the halls of Gonzaga University, where he has taught accounting ever since. "I try to model myself after my grandfather," Andrew said. "Taking care of people is really rewarding, and something I garnered from him—showing students I care for them and their progress both in class and in life."
When Andrew and his wife Alexandra worked together to plan their estate, the Brajcich commitment to Gonzaga was present along with their care for family. They planned for guardianship over their two sons and included a provision in their will for GU students.
"Gonzaga is my employer, my alma mater and my extended family."
Andrew explained. "I've been the beneficiary of what goes on here. I've found that Gonzaga people are more interested in having an impactful life than a transactional one, and good people doing good things matters to me. As part of my heritage, my grandfather had a passion for this place, and now it's my legacy too."
Your legacy can be Gonzaga's future.