'When God Made Barney'
Former President and Chancellor Coughlin remembered fondly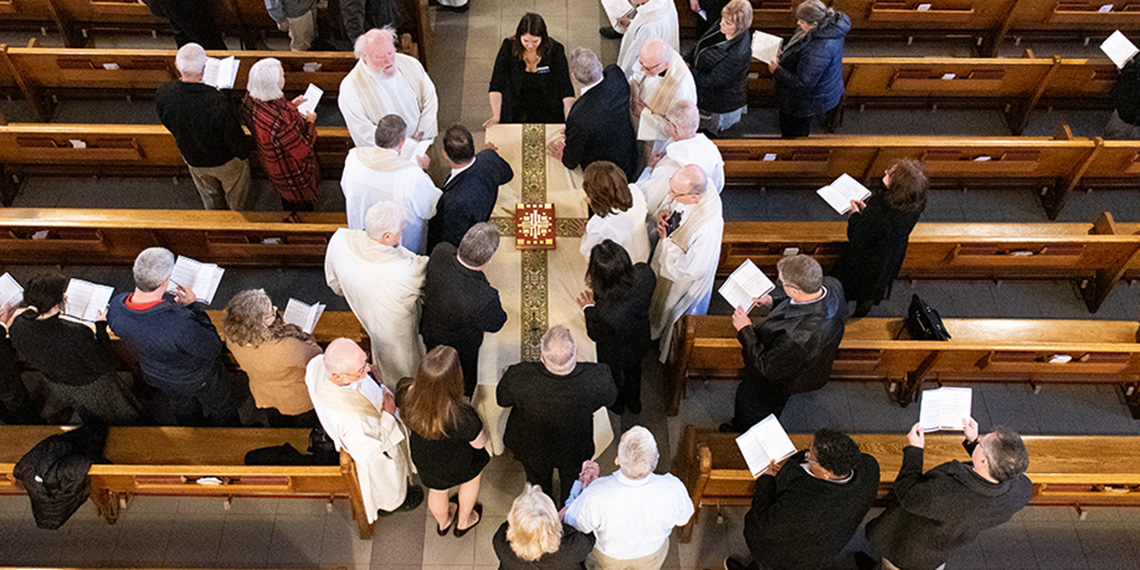 Perhaps there is no better measure of a man or woman than the number of friends he or she has. And from the stories shared by friends and family who came from across the country to attend Father Bernard Coughlin's funeral Feb. 21 at St. Aloysius Church, it was clear that few have measured higher than "Barney."
From his precious smile and firm, warm handshake, to his passion for listening with intent and his divine humility, he was as genuine a man as there ever was. The blessings he brought to every one of our lives were from his heart. He could light up a room.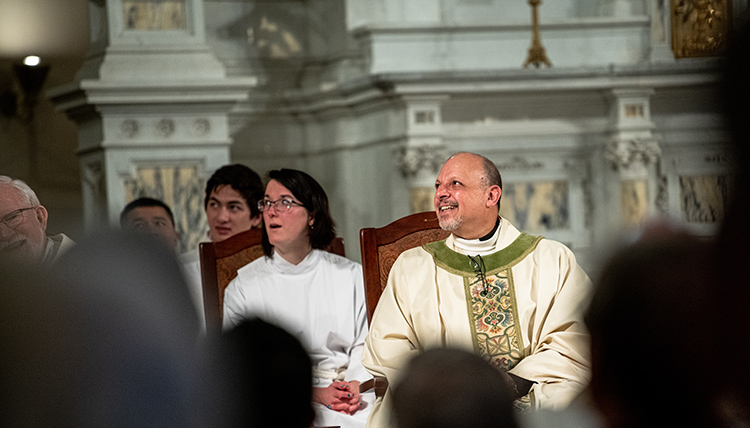 His longtime Jesuit brother, Father Steve Kuder, who delivered the homily, told assembled friends that St. Ignatius' constitution for the new Society of Jesus was a massive document that could be summarized as follows: Do everything from the heart, in the spirit, practically.
"And those three elements," Fr. Kuder said, "sum up our friend, Fr. Coughlin."
"He was practical and down to earth, so from here on out I'm going to call him Barney," Fr. Kuder quipped.
"When God made Barney, I bet he didn't do anything else that day but sit around and feel good," Kuder said, extolling all of us to feel good having known Barney.
Nephews Kevin Coughlin shared family stories at the Vigil Feb. 20, and Mike Coughlin took the pulpit for the funeral service. Both told about what a family favorite Barney was. They loved it when Barney would bring his Jesuit scholastic friends to their family home in Topeka from St. Mary's Jesuit Seminary to share about science, economics, politics, religion, God and life.
"And Barney inspired all of us to become something and to serve God," Kevin said.
Gonzaga President Thayne McCulloh, the final eulogist, said that Fr. Coughlin was the principle architect of the Gonzaga University that we know today. He set the direction for the institution that would improve academic reputation, the preparedness of every student, the campus environment and the University connection to the community.
After McCulloh's appointment as president, Fr. Coughlin became his frequent collaborator and conversation partner.
"To be honest, I sometimes received his appearance at my door with a mixture of anticipation and dread. Anticipation because he always had some significant piece of information he wanted to share, and dread, because his custom of gently clasping my cheek with his hand was in no way gentle. My neck muscles would seize up involuntarily in anticipation of his force," McCulloh told the audience as they laughed, many understanding the power of Barney's touch.
He genuinely treasured his relationships and he understood that maintaining relationships required great effort. When he became Gonzaga's first chancellor it was unclear internally what his role would be. "But Barney understood that the lifeblood of the University was its people and his job was to be maintaining and deepening relations," McCulloh said "He put people at the center of his life, his formation, his work. It was all about relationships."
In later years, Coughlin would continue building friendships on his walks around campus. "He was a man in motion. He did not like to sit still," McCulloh explained. On a trip with Coughlin to San Francisco about eight or nine years ago, McCulloh said Barney was going for a walk. After about 45 minutes, the current president began to worry what had happened to the former. "I began ruminating on what losing Fr. Coughlin in San Francisco might mean to my tenure as president," he joked.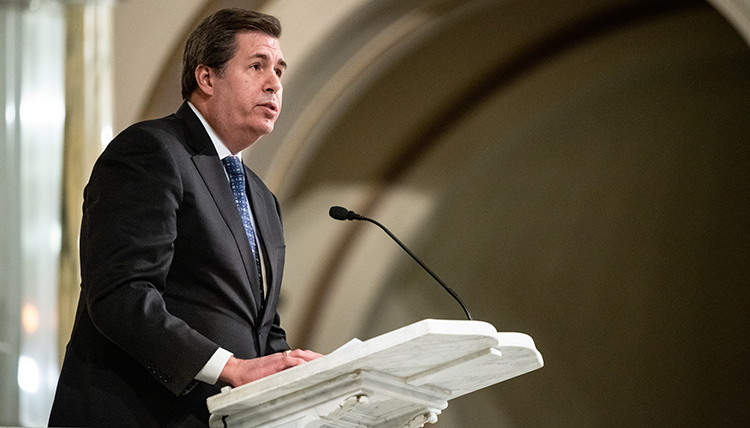 "He loved to experience life, new places and possibilities, to take note of changes and evolutions in the environment around him. To be in motion became a way of being for Barney," McCulloh said.
Part of God's call to him and his vocation was bringing hope to people. On a personal level, he consoled the grieving. On an institutional level, he insisted on celebrating success and the generosity of wonderful people. In the community, he challenged Spokane to be more courageous, be forthright in addressing injustice, recognizing the richness of this community, as well as its shortcomings.
He found the goodness in people, and the goodness of God.
McCulloh said Fr. Coughlin consistently signed off with a heartfelt 'God bless you, God loves you.'
In that simple phrase, it contained three core messages, McCulloh said.
Father's unshakable belief not only in the existence of God, but that God loves us. It was the source of his strength in good times and in bad. Faith was his superpower.
You matter. Your life has meaning. You are worthwhile.
When he said 'God loves you,' he also meant 'I love you.'
McCulloh said to Fr. Coughlin, "Your work here has ended, but your legacy lives on."
Faith & Mission
Office of Mission & Ministry
President's Office