Black Heritage Month 2020 at Gonzaga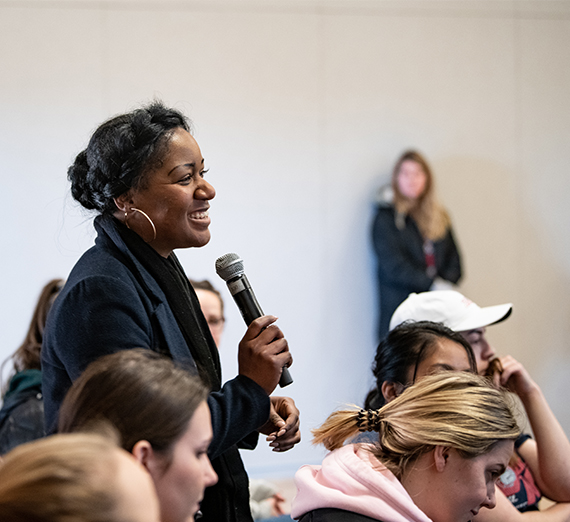 ---
We are presenting a variety of programs to honor and celebrate Black Heritage Month. On behalf of DICE, we invite you to join us to raise awareness on the history and social problems African Americans have faced throughout the decades, and continue to deal with today.
MLK Teach-In: Lifting as We Climb
January 20th, 12:30-2:30pm, Hemmingson Ballroom
Speakers/panelists focus on voter suppression and the Civil Rights Movement, modern voter restrictions, intersection of race, and local efforts to increase voter access and engagement.
Cosponsors: Center for Community Engagement & UMEC
Film Screening: Tongues Untied
February 7th, 3-5:30pm, Gonzaga School of Law - Barbieri Courtroom
Filmmaker Marlon Riggs gives a voice to communities of gay black men, presenting their cultures and perspectives on the world as they confront racism, homophobia, and marginalization.
Collaboration with the GU Law Library, Center for Civil & Human Rights, LGBTQ+ Resource Center, & UMEC
Speak Up Series: The Power of the Black Vote
February 11th, 5:30-7pm, Hemmingson Auditorium
With a focus on the past, present, and future, speaker KD Hall will focus on voter suppression, why black votes matter, and how to get the black community to vote and run for office.
Co-sponsors: BSU & UMEC
Film Screening: Ida B Wells: A Passion for Justice
February 14th, 3-4pm, Gonzaga School of Law - Fairhurst Bench-Bar Room
This film documents the dramatic life and turbulent times of the pioneering African American journalist, activist, suffragist and anti-lynching crusader of the post-Reconstruction period. Nobel Prize-winning author Toni Morrison reads selections from Wells' memoirs and other writings in this winner of more than 20 film festival awards.
Collaboration with the Women's Law Caucus and Chastek Law Library
BSU Dinner
February 15th, 5pm, Hemmingson Ballroom
This year's theme is "The Shades: An Exploration of Blackness," we will be exploring the diverse experiences across the Black diaspora. There will be food, performance, and great company! You do not want to miss out! Tickets are $10 for students and $15 for community members.
Film Screening: True Justice - Bryan Stevenson's Fight for Equality
February 18th, 6:30 pm, Gonzaga School of Law - Barbieri Courtroom
For more than three decades, Bryan Steverson, Founder & Executive Director of the Equal Justice Initiative, has advocated on behalf of the poor, the incarcerated, and the condemned, seeking to eradicate racial discrimination in the criminal justice system.
Sponsor: Gonzaga School of Law, Center for Civil & Human Rights
Behind the Hashtag: An Evening with Patrisse Cullors
February 20th, 7pm, Myrtle Woldson Performing Arts Center
Co-founder of #BlackLivesMatter, Cullors is the founder of Dignity and Power Now, and senior fellow at MomRising, dedicated to ending maternal mortality and morbidity.
Primary Sponsor: The Center for Civil & Human Rights, Gonzaga School of Law
20/20 Clear Vision on Mental Health Among African-American Men
February 24, 5:30-7:30 pm, Gonzaga School of Law - Courtroom
An open forum with health professionals to discuss and promote health-based initiatives and to cultivate healthy dialogue around access to mental health providers.
Sponsor: Gonzaga School of Law
Film Screening: Hoop Dreams
February 28th, 3pm, Gonzaga School of Law - Fairhurst Bench-Bar Room
One of the most critically-acclaimed documentaries of all time, Hoop Dreams is a rich, complex, heartbreaking, and ultimately deeply rewarding film that uses high school hoops as a jumping-off point to explore issues of race, class, and education in modern America.
Sponsor: Gonzaga School of Law
Learn more about the Office of Diversity, Inclusion, Community & Equity