Sodexo Lends a Hand to Northeast Neighbors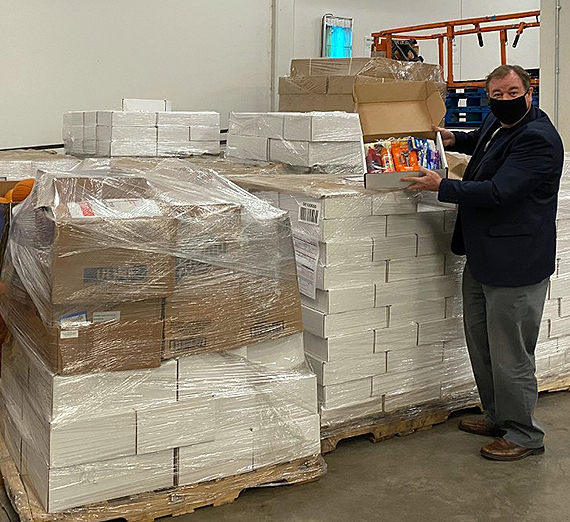 ---
SPOKANE, Wash. — Sodexo Food Services at Gonzaga University is joining forces with the University's Center for Community Engagement (CCE) to provide more than a dozen pallets of various home cleaning and personal grooming products to Gonzaga's neighbors in Northeast Spokane communities today.
Sodexo and its partners Vivabox Solutions and Procter & Gamble collaborated to secure the donations, said Pat Clelland, resident district manager of Sodexo. Clelland worked with CCE and Gonzaga's Opportunity Northeast initiative to support those struggling to make ends meet in northeast neighborhoods due to the coronavirus pandemic.
"We have been delivering food items and volunteering throughout COVID-19 for our community, and the smiles under those masks when the items are received have impacted everyone involved — from the delivery personnel to the people receiving the items," Clelland said. "It reinforces our values and reminds us that we are all leading with a purpose in our community."
The donated items range from toothbrushes, shaving products, laundry detergent, tissues, paper towels, and much more. The efforts are part of
Opportunity Northeast
, Gonzaga's place-based community initiative dedicated to improving the quality of life for individuals, youth and families in Northeast Spokane while creating transformative learning opportunities for Gonzaga's students, faculty and staff.
"I was once told, 'If you have two coats you should give one away to someone who has none.' We are in a position with our supply to share these items with our community members," Clelland said.
For more information, contact Pat Clelland at (509) 313-6904 or
Pat.clelland@sodexo.com
or Bailley Wootton (509) 998-2848.