Gonzaga Theatre & Dance Hosts 'Dance Presents!' Concert Nov. 14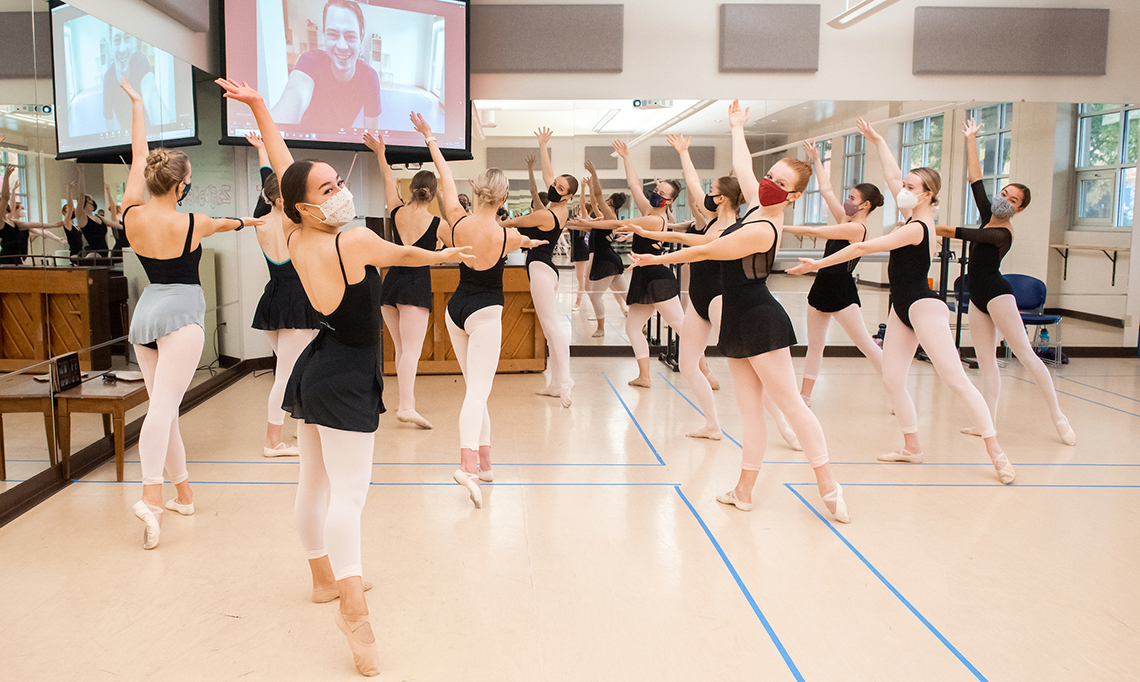 SPOKANE, Wash. — The Gonzaga University theatre & dance department will present its second annual Dance Presents! Concert starting at 7:30 p.m., Saturday, Nov. 14. The free event, which will be livestreamed from the Myrtle Woldson Performing Arts Center, features original choreography by Kyle Davis, principal dancer with Pacific Northwest Ballet, and the Gonzaga Ballet Ensemble.
Set to Tchaikovsky's "Variations on a Theme, Op. 35," a piece for string orchestra by Anton Arensky, Davis' rich choreography features bold and contemporary movements highlighting the lines of the human body in motion. As Arensky's score, inspired by Richard Henry Stoddard's poem "Roses and Thorns," merges with expressive movement, organizers hope viewers will find themselves transported into the flower gardens of their childhood memories.

Prior to the Gonzaga Ballet Ensemble's performance, Kyle Davis will premiere two original "screendances" and be joined by faculty member and Costume Designer Leslie Stamoolis to discuss their inspiration and the process behind taking a design from paper to stage.
This performance can be viewed on Facebook [https://www.facebook.com/gutheatredance] or YouTube [https://www.youtube.com/watch?v=tYjkwl10FzU].
The Collaboration
In January 2020 Gonzaga Dance hosted Peter Boal, the artistic director of Pacific Northwest Ballet, as he held regional auditions for PNB School's Summer Intensive. At that time, he also taught a master class for Gonzaga dance students and began discussions of possible future collaborations with Dance Program Director Suzanne Ostersmith.
Boal introduced Ostersmith to Principal Dancer Kyle Davis, and together they had many conversations about possibilities. Faced with the challenge of the pandemic, both wanted to make the collaboration possible for the students. For a week in October Davis "traveled" to Gonzaga via Zoom to guest-teach many classes and set a work on the Ballet Ensemble. The students are excited and honored to share this new dance work by this world-class professional dancer.
The Gonzaga Ballet Ensemble
The Ballet Ensemble is composed of 12 dedicated dance students from a variety of majors and minors selected to represent Gonzaga Dance. These students have continued to develop their technique in preparation for this performance under the guidance of dance faculty members Pam Erickson and Sarah Glesk.
While the performance is free, donations to Gonzaga's Dance Endowment are welcome; to do so, visit https://bit.ly/2Gy5TUz.

Media Contacts: For more information, please contact Gonzaga Dance Program Director Suzanne Ostersmith at ostersmith@gonzaga.edu or Amanda Long, marketing assistant, at longa@gonzaga.edu.
Academics
Arts & Culture
College of Arts & Sciences
Dance
Theatre Arts
News Center