Confronting Race and Culture in the Classroom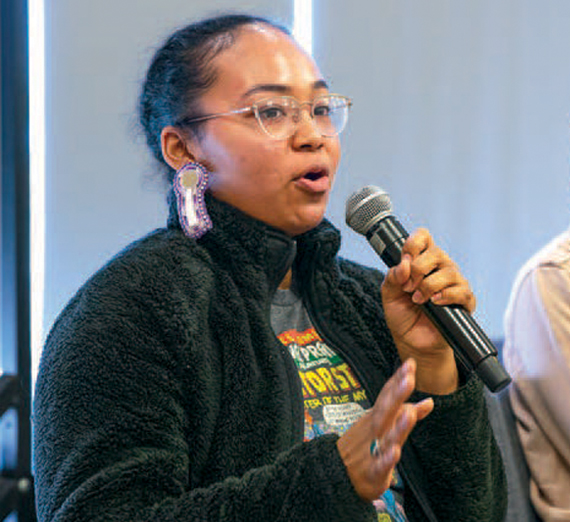 ---
The School of Education (SOE) hosted a workshop for local teachers and the SOE community to work through questions of Native American identity and how race can impact the classroom. Spokane Public Schools Indian Education Coordinator, Bonnell St. Goddard and Ali Michael from the Race Institute for K-12 Educators were featured speakers. This event challenged the audience to look at the hidden statistical data and confront white culture's role in perpetuating racial issues.
St. Goddard explained how funding for Indian Education is challenging because it relies on accurate reporting of Native student enrollment. The available funding goes toward Indian Education programs which support Native language classes, tutoring and dropout prevention. She pointed to graduation rates as a reflection of the support Native American students are getting. While at first the statistics looked promising with a 71% graduation rate for Native American students, this number did not account for biracial Native American students. These students were hidden inside of a larger biracial student category but when factored by themselves showed a 37% graduation rate.
St. Goddard said despite the data, "I know that we are very resilient, and we are capable of many things. So, the relationships, the visibility and the connection are all key to success for some of the students you teach in your class and some of the students you will be teaching in your class."
Pivoting away from Indian Education, Michael's talk focused on how white culture impacts minoritized communities. Michael said White culture often becomes synonymous with culture which allows white people to ignore the impact they have on marginalized groups. Losing the term white in describing dominant culture actions allows white people to lose the responsibility that comes with it.
Becoming comfortable confronting the dominant culture is a learned skill. Talking about what white culture is impacting changes the role white people identify with and allows them to act on the injustices they see. It is all part of developing a positive racial identity and becoming comfortable in what it means to live in a racialized culture. "My racial identity is my toolbox," Michael said. It is particularly important for educators to develop strong positive racial identities to support student development of racial and cultural identity.
Just as it is important to acknowledge our own racial identities, we must continue to acknowledge the land and Native people of this place. We acknowledge that Gonzaga University resides on the homelands of the Spokane Tribal people. We are grateful to be on this land and honor its past and present. These dialogues are central in addressing the injustices Indigenous and minoritized people face as we work to create solutions to systemic issues in all communities.