Corporate Knights Ranks Gonzaga No. 23 in Better World MBA
---
SPOKANE, Wash. — The Gonzaga University Graduate School of Business Administration has been ranked No. 23 in the Corporate Knights 2020 Better World MBA Ranking, recognizing its emphasis on sustainability in course content and faculty research.
Gonzaga's MBA programs currently enroll approximately 150 students. Of those students, approximately 70% are working professionals in the Inland Northwest.
"As part of our Jesuit identity, we are called by our mission statement to educate students 'for lives of leadership and service for the common good' and 'with responsible stewardship of our physical, financial, and human resources,'" said Mirjeta Beqiri, Ph.D., director of MBA Programs and a professor of operations management. "This ranking highlights the commitment of the MBA programs and the School of Business Administration to further this mission toward making the world a better place. It speaks to the dedicated efforts of our faculty and students for a more sustainable world."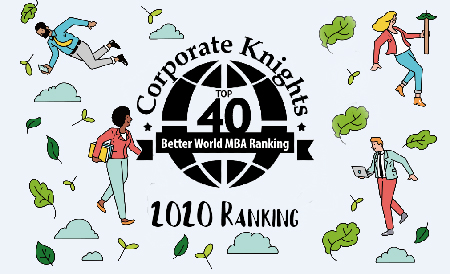 The rankings are published at
Corporate Knights website
.
The Gonzaga MBA combines small class sizes, internationally recognized educators, a faculty-led study abroad program, community-engaged courses, and a relevant curriculum to tailor the student experience for individual goals and flexibility. In the MBA program, Gonzaga offers concentrations in finance and project management, as well as a general MBA with a variety of elective options.
To determine the ranking, Corporate Knights evaluated 150 business schools (up from 146 in 2019), including all of the 2020 Financial Times top 100 Global MBA programs, every program that made the 2019 Top 40 in the Corporate Knights Better World MBA Ranking, and select MBA programs accredited by the Association of MBAs, The Association to Advance Collegiate Schools of Business, and/or signatories of the Principles for Responsible Management Education that opted in for evaluation.
The programs were evaluated across five key performance indicators: the number of sustainability-focused articles in peer-reviewed journals and citations (30% and 20% respectively), the number of core courses that incorporate sustainable development topics (30%), research institutes and centers devoted to sustainable development issues (10%) and faculty gender and racial diversity in the business school (5% each).
In 2019, Corporate Knights uncovered a noticeable uptick in faculty research and core courses centered on sustainability; this trend continues in 2020. These developments reflect ongoing demand from students to train for meaningful work in the business sector, as well as demand from employers to help solve the serious social and environmental problems that threaten the future of businesses.
"Every MBA should be a sustainable MBA, and the Better World business schools are showing us how," said Toby Heaps, CEO of Corporate Knights.
Founded in 2002, Corporate Knights Inc. includes the sustainable business magazine Corporate Knights and a research division that produces rankings and financial product ratings based on corporate sustainability performance, including the Global 100 Most Sustainable Corporations in the World.
For more information, please contact: Toby Heaps, publisher and CEO, Corporate Knights, (416) 203-4674 x223 or
toby@corporateknights.com
.