Central Washington Partnerships Help UW Medical School Students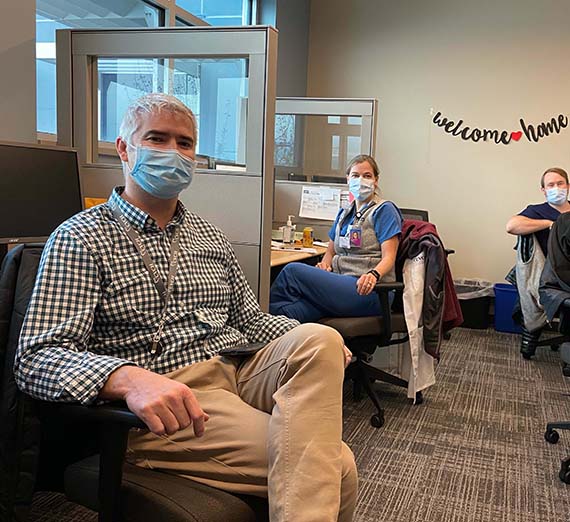 ---
Wenatchee, Washington, is more than just the apple capital of the world; it's also home to Central Washington Hospital, a regional medical referral center. Operated by Confluence Health, the hospital, along with Wenatchee Valley Hospital, offers first rate medical care for Central Washington residents.
Part of that high-quality care stems from Confluence Health's partnership with the University of Washington School of Medicine (UWSOM). For over three decades, third- and fourth-year medical students have completed a diverse array of clerkships in Wenatchee.
In fact, the Wenatchee Valley Clinic-Omak is the site of UW's oldest rural family medicine training site for medical students and residents.
"Our partnerships with Confluence Health and Columbia Valley Community Health are incredibly valuable," said Geoff Jones, MD, UW School of Medicine Assistant Clinical Dean for Eastern and Central Washington. "All required clerkships are available in Wenatchee except psychiatry, and we recently added fourth-year rotations in emergency medicine, neurology and anesthesia."
Forty-one UWSOM students completed clinical rotations at Confluence Health locations during the 2019-2020 academic year.
The future physicians spend four to eight weeks in the community while they explore disciplines including internal medicine, pediatrics and surgery.
Jones said the students work with exceptional physicians during their time in Central Washington, and student feedback is overwhelmingly positive.
"The formal ratings are fantastic-- some of the best ranked rotations in the medical school," he said. "Informally, students say they feel well-cared for at Confluence Health. The organization and the community embrace them."
In addition to the excellent instruction, Jones said students enjoy experiencing what working in a community hospital entails.
Equally important is UWSOM's partnership with Columbia Valley Community Health (CVCH).
Chelan is a designated WRITE (WWAMI Rural Integrated Training Experience) location. WRITE, a clinical medical education program, was developed by UWSOM to help meet the need for more rural primary care physicians across the five-state WWAMI region (Washington, Wyoming, Alaska, Montana and Idaho.)
Now, thanks to its partnership with Columbia Valley Community Health, UWSOM is offering a new residency program in Central Washington.
"We just launched the Family Medicine Rural Training Tract Residency in Chelan," said Jones.
Tobe Harberd, MD, UWSOM graduate and WRITE preceptor in Chelan, is delighted to deepen CVCH's connection with his alma mater.

He had relished the experience of living with his preceptor in Dayton, Washington, during his RUOP (Rural Underserved Opportunities Program) experience in medical school. When he settled in Chelan to practice in 2009, he knew he wanted to be part of the program-- this time as preceptor instead of student.

"I loved living and working in a small community," Harberd said. "It's a great experience you can't have in a university setting."

It's also valuable for rural, underserved areas.

"My patients really enjoy and are receptive to my students," he said. "They're eager to help teach."

An added benefit? The students keep the experienced physicians on their toes.

"They ask such great questions," Harberd said.

He said the new residency program is a fantastic opportunity for the community.

"Our first resident started in July."

Harberd said the most valuable advantage of CVCH's collaboration with the medical school is becoming apparent.

"Getting these students out working in rural communities plants a seed that will bear fruit," he said. "The ultimate benefit is students coming back to work in our rural communities."

Scott Hippe is one of them.

The lure of family medicine grabbed him when as a student he worked in Chelan with Harberd.

"I got hooked on the broad spectrum of medicine that family physicians practice," Hippe said. "It's a job you'll never master-- there's always something to learn and there's never a dull moment."

The pace of small town living also proved enjoyable.

"I really liked the community and getting to know patients well," he said.

Hippe recently completed his family medicine residency in Boise, Idaho, and is finishing up a one-year OB fellowship there.

In November, he's returning to Chelan to launch his career.

"I'm excited to work at Columbia Valley Community Health," he said.

Harberd is thrilled to have his former student return as a colleague.

"Partnering with UWSOM creates a full-circle pipeline," Harberd said. "It's a win-win for everyone."

Jones couldn't agree more.

"We wouldn't be able to educate our students in Central Washington without these vital partnerships," he said. "Confluence Health and Central Valley Community Health provide a great blend of sophisticated medicine with a small town feel."