Who is Your Favorite Professor, and Why?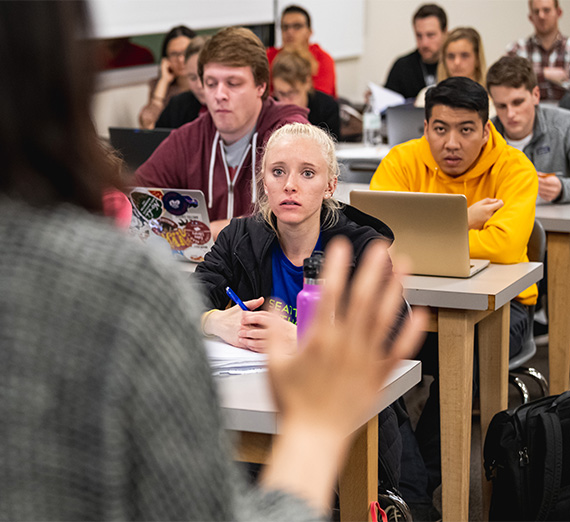 ---
Madelyn Wilkins ('23)
This semester, Dr. Patrick Ferro is my favorite professor. He is my favorite professor because he is very passionate about the subject he teaches and because he cares so much about students. I have Dr. Ferro for Materials Engineering, which admittedly is a harder subject to grasp, but Dr. Ferro makes it much easier to learn. He stresses that he is always available if we need help, or that he will get back to us ASAP. He always tells us that he will happily write any of us recommendations and that we can call and consult him, no matter how long it has been since we have taken his class. Before and after class, he strikes up conversations with different students with genuine interest about how they are doing. During class, almost every lecture he exclaims "this is my favorite!" and always makes us laugh. While he isn't the only professor that loves the subject they teach or cares about their students, he is the one with the most enthusiasm. That enthusiasm is what makes you want to go to class, even on some of the harder days.
Vanessa Kunakornvanich ('23)
My favorite professor at Gonzaga University thus far is Dr. Julianne Mora. Dr. Mora was my Communications faculty advisor when I transferred from the engineering program to the College of Arts & Sciences. My favorite aspect of Dr. Mora is how she embodies the holistic, Jesuit approach to education. When I met her for the first time, instead of asking me about my major, she sat me down to ask what I wanted to do with my future. I immediately felt so comfortable around her and gave her a genuine response that went deeper than small talk. Dr. Mora wants to get to know her students and advisees personally and help them reach their potential. Because she gets to know the students personally, Dr. Mora recommends classes that fit her advisees' interest. Similar, to many professors at Gonzaga, Dr. Mora cares about the whole being of the student and will provide you with all the necessary resources to help you succeed within the classroom and beyond.
Irene Gil ('23)
At Gonzaga University it is so hard to choose a single professor or mentor that has positively impacted my time here at Gonzaga. All my professors work hard for the success of their students and are actively making sure that we are learning something new. One of my favorite professors that has exemplified these qualities is Father Patrick Baraza for my first-year seminar class. Fr. Baraza never failed to strike up though-provoking discussions each class while making sure all his students had an idea to contribute. With every discussion, Fr. Baraza always praised his students on how impressed he was with our class discussions while teaching us great metaphors with all his life stories. Fr. Baraza is so personable and wanted to get to know each one of his students to help them thrive at Gonzaga. Most of all my other professors are like Father Patrick Baraza. They put in the effort to help you along the way of your time of growth and learning in their classes.
Aileen Sarmiento Velasco
('24)
My favorite professor would have to be Dr. Robert Waterman from my Political Thinkers and Actors class. Dr. Waterman is my favorite because he takes a lot of time in class to make sure we all understand the material that we are learning. You can really see how much he cares for his class and for all of his students' education in the way that he prepares for each of his classes. He is also very understanding and is always there if you ever need help with an assignment or if you need any sage advice. I always come out of his class feeling like I learned gained some new knowledge and feel like I understand the material ten times more than I did before class.