CCHR 2020 Summer Grant Recipients
---
The Center for Civil and Human Rights (CCHR), as part of its mission to address issues relating to civil and human rights through research, education, and community engagement, provides annual Summer Grants to law students pursuing unpaid summer internships in this area. This year, four students were selected to receive summer grants: Bailey Pahang (3L), Kathryn Lucido (3L), Sierra Paola (2L), and Sarah Fortier (2L). The four students each received $3750 to support their unpaid summer internships.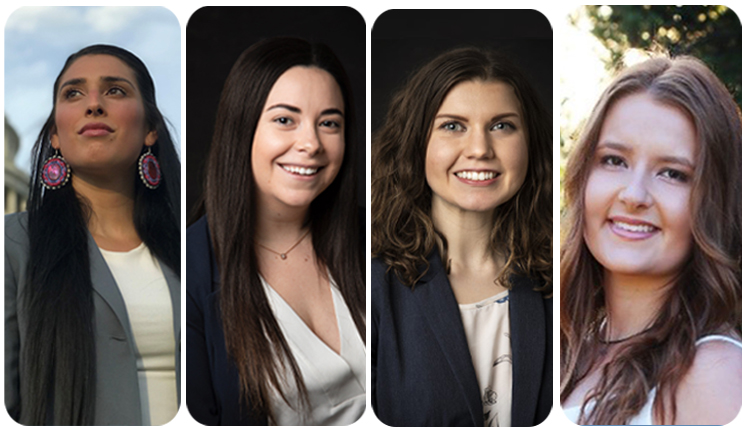 L to R: Bailey Pahang, Kathryn Lucido, Sierra Paola, and Sarah Fortier
Pahang interned with the Educational Opportunities Section of the U.S. Department of Justice in their Civil Rights Division in Washington D.C. While in the Section, she investigated school desegregation cases and school discipline practices, attended Congressional hearings on school re-openings during the pandemic, and examined the intersection of Title IX and IV for harassment cases in schools. Pahang states, "In the midst of two global pandemics—COVID-19 and anti-Blackness— engaging in educational equity work, with some of the fiercest leaders I have ever known, gave me purpose."
Lucido worked with the San Francisco Public Defender's office where she handled cases in the juvenile felony unit and was part of the office's Racial Justice Committee. She states, "I was able to work on numerous cases in order to ensure that every juvenile who entered into the criminal justice system was guaranteed all of their constitutional rights were protected. In a time of such uncertainty, these children desperately needed help to be released from custody or to work on their cases and I am thankful that the Center for Civil and Human Rights was able to afford me this opportunity."
Paola worked as a legal intern at Washington Civil & Disability Advocate (WACDA) in Seattle, WA, where she worked with individuals with disabilities who were facing discrimination at places of public accommodation, through government programs, in their housing, and at their places of employment. Paola states, "I was able to fully realize the extent to which individuals with disabilities in the US must self-advocate in order to be treated equally and to access all the same services and rights as other Americans. Disability rights have come a long way in the US over the past 50 years, but the fight must continue to ensure that all aspects of our society are built with people of all abilities in mind from the outset."
Fortier interned with JusticeMatters, Inc. in Durham, North Carolina, where she was placed in the immigration department and helped with their mission to combat human trafficking. During her internship, Ms. Fortier defended clients during their visa process, drafted appeal briefs, and prepared FOIA requests to government agencies.
This internship gave me the opportunity to seek justice for vulnerable clients in a new way, which confirmed my interest in public service. ~ Sarah Fortier