Gonzaga University School of Law Welcomes Artist-in-Residence Shelle Lindholm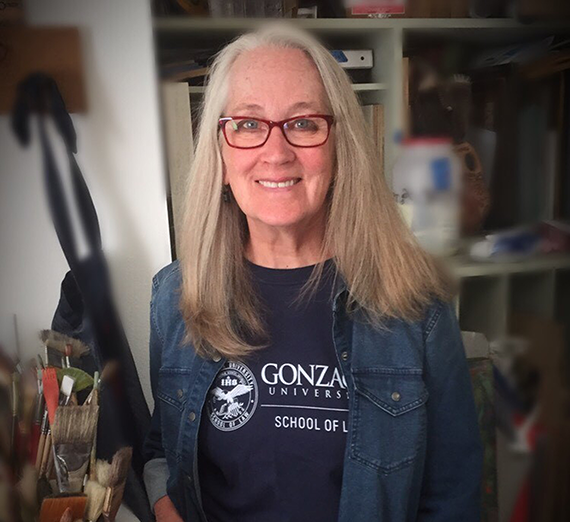 ---
Montana artist Shelle Lindholm takes center stage at the Gonzaga School of Law facility this fall, marking the second year that the building has hosted an artist in residence. The honor was extended to local artist Ben Joyce over the 2019-2020 academic year during the program's inaugural launch.
"Our artist-in-residence program furthers the Law School's initiative to integrate into the community and region," said Jacob Rooksby, Dean of the School of Law. "While COVID-19 makes that more difficult for now, Shelle's beautiful work provides students, faculty, and staff with a tangible attachment to place that is more important than ever in this time of social distancing."
Known for her vibrant and high energy depictions of wildlife, Lindholm's work brings with it a sense of experimentation and exploration. Lindholm describes herself as a storyteller, combining colors, shapes, patterns, and textures to create a world where her animals are the star. In her artist statement, Lindholm notes that she often asks herself, "how can I make this animal different," as a way to craft her whimsical pieces. With 15 pieces on display within the Law School building, Lindholm's work brings a spectacular vibrancy to rooms and halls it inhabits.
Sarah Guzman, Director of Alumni Engagement & Strategic Initiatives, and chair of the Law School Building Committee said that the work has brought with it an uplifting nature that is even more during this challenging time. "Shelle's art reminds us of the optimism and hope that comes from our natural world," said Guzman. "We've enjoyed the opportunity to bring her creativity into our space here at the Law School."
Lindholm's work is on display through the spring semester at the law school, although the building remains closed to the public. However, all are welcome to view Lindholm's work on the Art Spirit Gallery website at theartspiritgallery.com/exhibition/299. A portion of the proceeds from the sale of Lindholm's artwork will benefit the School of Law.
Contact
For additional information regarding Lindholm's work, please contact Blair Williams at The Art Spirit Gallery at info@theartspiritgallery.com.
For press inquiries, please contact
Chantell Cosner, Marketing Manager
Gonzaga University School of Law
509-313-3771
cosnerc@gonzaga.edu
Arts & Culture
School of Law