For Joanna Hazel, Gonzaga's a Family Tradition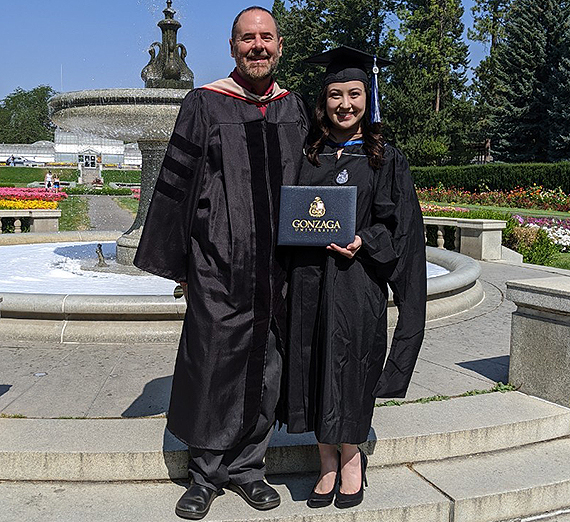 ---
SPOKANE, Wash. — Joanna Hazel is a legacy member of the Gonzaga University community, graduating in May from the Master of Science in Taxation (MSTax) program in the School of Business Administration. She received a bachelor's degree from Gonzaga in 2019, majoring in accounting with a minor in public relations.
Hazel was born in Kagoshima, Japan, before her family moved to Spokane when she was 8 after her father received a teaching position at Gonzaga.
Hazel's grandfather, the late Harry "Bud" Hazel, Ph.D., was a professor of communication studies at Gonzaga and an announcer for basketball games in the '80s. Her father, Michael Hazel, Ph.D., is an associate professor in the Master of Communication and Leadership Studies program in the School of Leadership Studies.
Continuing the legacy, Joanna wisely leveraged her time and relationships at Gonzaga. She connected with her teachers and learned from Andrew Brajcich, J.D., associate professor of accounting, about an internship with Deloitte's U.S. Business Tax group in London.
She applied for and received the internship, working in London during her senior year. Hazel did mostly tax compliance work, helping prepare their clients' tax returns. She returns to London this month for a full-time position with the same Deloitte group.
Hazel felt the transition from undergraduate accounting to the master's program was seamless.
"I knew all of the professors in the grad program already and I knew their teaching styles," said Hazel. "It really just felt like I didn't miss a beat."
Hazel took advantage of the "3/2 Program" for accounting majors, which allowed her to begin the MSTax program as an undergraduate — saving money and time. She took nine graduate credits as an undergraduate and completed the master's program in one year.
Like all members of the Class of 2020, she too was disappointed to not experience a proper ending to her Gonzaga education due to the coronavirus pandemic. Nevertheless, Hazel looks to the bright side and appreciates the opportunity to persevere with the other members of her class during an incredibly trying time.
"My friends and I actually made the best of it, we would FaceTime each other every day doing our homework together and I think it brought us closer," Hazel said. "We held each other accountable to stay motivated and connected with each other in the best way that we could."
As Hazel prepares to start the next phase of her life, she is grateful for the many opportunities that have been afforded to her at Gonzaga.
"Knowing that I received a really good quality education while strengthening the bonds and the relationship that a lot of my family members before me have already created has been truly very rewarding," said Hazel.
Academics
College of Arts & Sciences
School of Business Administration
Accounting
Public Relations
Master of Science in Taxation
News Center