Alumnus Uses Art to Create a Mosaic of Belonging, Inclusion in Schools

Mikel Brogan, a 2016 graduate of Gonzaga University's Master of Education in Leadership and Administration program, is making a difference as a public school principal in British Columbia, Canada, using mosaic art to honor First Nations bands in the area and weave a culture of belonging that celebrates inclusion.
Early in his career, in 2014, Brogan was appointed principal at a small public school located in a remote First Nations community in rural British Columbia. The student population at this school was 90% First Nations. Many of the grandparents, parents and guardians of Brogan's students had been forcibly taken away from their families, sent to residential schools, and required to abandon their traditional culture and language.
Many of the students and their families had no feeling of connection to the school Brogan led.
The school itself lacked connections to the community. Students' culture was not represented in the school's displays or public spaces. This realization led Brogan to create the first of many art projects at a succession of schools to welcome students and their communities.
That first art project — which now graces the school's front entrance — incorporates symbols of the local Ulkatcho First Nation band and features a bear. Created by students using mosaic tiles, the piece includes the words: "Anahim Lake School."
"Our communities are a blending of First Nations, immigrants, pioneers, and all manner of people from diverse backgrounds," Brogan said. "It is important that our school reflect the values of the community and its people."
Brogan's parents, renowned artist Marina Papais and master woodcarver Daniel Collett (retired teachers), helped lead the students in creating the display. Every student contributed to the mosaic.
In 2016, Brogan became vice principal at École 100 Mile House Elementary, the largest elementary in the district. He again went to work with students to create a 6-by-6-foot mosaic, made from hundreds of small glass beads that were attached to the main canvas. Each student and staff member designed one of the glass beads that together formed a mosaic of belonging. The center of the piece features a wolf, representing the school's wolf pack logo, and the design was inspired by the medicine wheel — a revered symbol of the First Nations.
The piece is mounted on the wall outside of the school's main entrance.
Our communities are a blending of First Nations, immigrants, pioneers, and all manner of people from diverse backgrounds. It is important that our school reflect the values of the community and its people.
As principal at Forest Grove Elementary School from 2016-17, Brogan led the school in a mural mosaic piece. Each student designed a bead that featured an animal and each classroom picked a season for the color. The students meticulously cut the glass and glued down the pieces; Papais and Collett helped assemble the mosaic. The local band school worked with the Brogan's public school to create the project, thereby forging a stronger bond across schools in the community.
In 2018-19, as vice principal and acting principal at École Heritage Park Middle School, Brogan led students in creating "A River of Belonging" — collaborating again with Papais, Collett, and Squamish carver Peter Gong, who carved six salmon from red cedar. The 4-by-12-foot illuminated piece comprises six frames, and features Gong's salmon alongside the 700 student mosaic beads forming a river.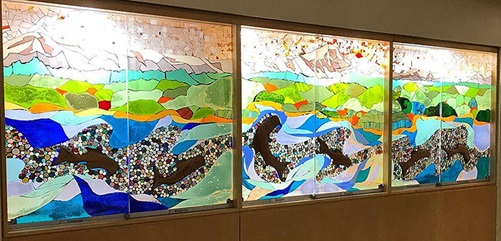 Each salmon represents one of the school's six core values: respect, responsibility, perseverance, courage, integrity, and empathy. The theme of the project focused on the local Fraser River, honoring that the school rests on the ancestral unceded territory of the Sto:lo People — considered the "people of the river."
Brogan found inspiration for the projects from his mother, who pioneered a four-year project called "Our Salmon, Our Children, One Earth" at schools throughout Greater Vancouver — instructing students in drawing salmon as she recounted old Coast Salish stories of salmon as life-givers.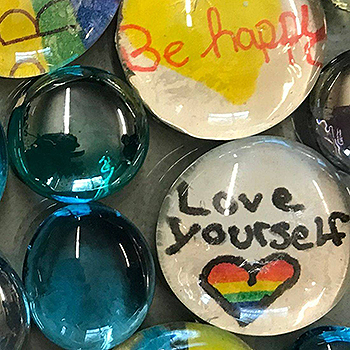 "My mother touched the hearts of many people and brought communities together over and over, through these extensive community art projects," Brogan said. "It was inspiring to see how art could help heal old wounds and bring people closer together in that sense of belonging to something greater."
To this day, many of the salmon can be seen swimming on the fences of school yards.

"Each of these projects has been tremendously successful in helping create a stronger sense of connection among students, staff, parents and community members," Brogan said.
Brogan says his Gonzaga master's degree taught him "a lot about the different elements required to successfully lead both a school and community," adding it has helped "tremendously" with his current leadership role.
Elaine Radmer, associate professor of education, taught Brogan and worked with him on his capstone project in which they measured the impact of using art in teaching. Brogan's efforts have been published in "Educational Leadership" (December 2018/January 2019) — a top practitioner journal in the field, Radmer said.
"School belonging is a very important consideration," Radmer said. "It is my hope that his model leads many to wonder what other physical and symbolic changes can be made to make schools multicultural. Mikel has spent time to build relationships with key members of local communities and has respected First Nations' input and values through the process."

Meantime, Brogan's work continues at his current school, West Heights Community Elementary School, where he is principal. Students are creating an 8-by-4-foot glass mosaic incorporating 2-inch-square tiles created by each student. The school symbol, the Thunderbird, is featured on the center emblem, and was designed by a local First Nations Chief.
The new project will be unveiled on June 21, National Aboriginal Day in Canada.
For more information about graduate degrees and programs offered through the Gonzaga School of Education:
Academics
Diversity & Inclusion
School of Education
Academic Vice President
Master of Education in Leadership and Administration (British Columbia)
News Center