Powering the Potential in Students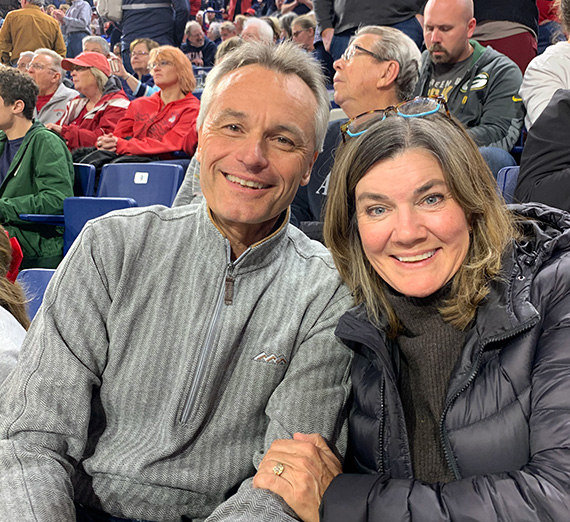 ---
Scott Morris ('80, '89 M.A.) made his career making power for others. And he and wife Liz ('80) continue to power the potential of Gonzaga's undergraduate students with a generous gift to the College of Arts and Sciences to sustain the Morris Undergraduate Research Fellowship as part of a larger total commitment to the University. Their gift celebrates the inspired work of Gonzaga's faculty, staff, students, alumni and community, and reinforces the University's commitment to undergraduate research.
This fellowship was established in 2017 by the Morrises to support undergraduate research in the humanities, fine arts and social sciences, with faculty mentors through the Center for Undergraduate Research and Creative Inquiry. This fellowship is unique in that it is driven entirely by student interests.
"Liz and I have been so inspired by what we've already seen the Morris Fellows accomplish," Scott Morris shared. "We are honored to further the program through this gift."
For example, Mitch Davey ('17), a Music Composition & Pre-Med major, did research on "Dancing in Harmony: A Documentation of the Traditions and Practices of Choral Music in Zambia;" and Analee Scott ('18), Sociology, studied "Investigating Multilingual Theory and Practice in Spokane Public Schools."
"We are so grateful for the opportunity to help ignite these passions that take students into the next stage," said Liz. The Morrises have already seen the research done by Morris Fellows spark an interest that carries into graduate study and/or alumni volunteer experiences.
These two Zags met at GU, nurtured their values here, and for 32 years, have given back to the University furthering the ideals of respecting individuals' dignity and a commitment to service for others.
Scott, former chair of GU's Board of Trustees, recently retired as president and CEO of Avista Corporation, but remains as board chairman. Liz, chair of the College of Arts and Sciences Advisory Board, is a retired speech pathologist. Both remain active in the community.