Passion and Perspective: In the Classroom and on the Field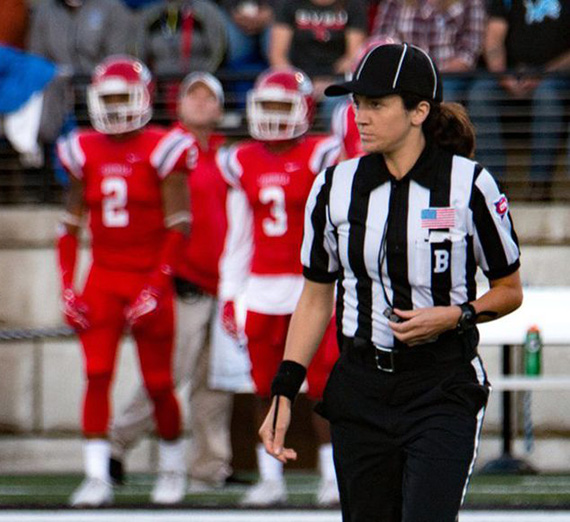 ---
"Hey, that ref has a ponytail," is something Amy Pistone has heard more than once. She is one of few female college football officials, a back judge in the Missouri Valley Conference. She also officiates women's basketball in the Summit League. This woman definitely knows what traveling is.
But those are sidelights. Pistone's main job is Gonzaga's newest classical civilizations professor, a position she began in August. She becomes GU's second full-time faculty member in her two-person department, and dare say, was a Jeopardy contestant as was her colleague, department Chair David Oosterhuis, who couldn't be more delighted.
"Her research is focused on fifth- and fourth-century Athens while mine covers late Republican and early Imperial Rome," says Oosterhuis. "So, we now have a specialist in Greek and one in Latin, with expertise on the two most critical periods – the ones that produced some of the most influential literature in history."
Another of Pistone's avocations is running. Pistone ran the original Athens Marathon and conquered two Boston Marathons, both in very inclement weather. Now she has her sights set on Spartathlon, the 153-mie run from Athens to Sparta. The plan is to start running at sunrise one day, and end by sunset the nextAnn Pstone.
Pistone is excited by an opportunity to use her avocation to enhance her teaching. "I plan to take pictures along the way, and incorporate some of the stories and legends into my classes," she says. She hopes to make this adventure in the next couple of years.
Pistone says her athletic pursuits have had positive impact on her academic life.
"From officiating I've learned how to take a difficult situation in the classroom and turn it into a teachable moment," Pistone says. "I'm getting good at diffusing situations. My general demeanor, posture and body language help me engage in a positive way with my students. I've learned great people skills from my athletic mentors. On the field we're faced with situations where our actions will either escalate the situation, or calm it down. We want to calm it down and create a conversation. That's a great skill to have in the classroom."
She also has used what she's learned in academia to her benefit on the field and court.
"Being interested in the scholarly aspect of things helps me understand rules and the spirit of the rules, especially for football because I didn't play the sport," Pistone says. "I'm going to study these things and learn the language better. Football coaches want me to speak in their dialect and being an academic has really helped me communicate more effectively."
Pistone stands 5-foot-6 and weighs in at 135 pounds. It can be comical to see her standing between two 300-pound linemen wanting to square off against each other. But it's her communication skills honed on the field and in the classroom that gets her through these tough situations.
Speaking of tough situations, during her first game as a college football official, what seemed like most of the 10,000 fans at Grand Valley State near Grand Rapids, Michigan, booed her call against the home team. "It was the right call," she asserts, "it was my first time out and my partners continued to subtly check on me to make sure I was alright. That camaraderie among my teammates makes this a pretty special community . . . as is Gonzaga."
Pistone is an ardent advocate for women, although she does so more in her actions than with her voice. She's appreciative of the first wave of women who got into college basketball officiating, who are now retiring out, but have opened doors for Pistone and other young women like her. In academia, women of the 1970s pushed to exclude names from abstracts to remove gender bias in the review process. "Women started breaking into the classics fields. I'm the beneficiary of their hard work. I don't have to fight to be taken seriously. Now it's up to me and others to carry the banner for issues like family leave, equality for women of color, giving women a bigger voice," Pistone says.
A "Michigan Live" story in 2017 told about Pistone on her way to the locker room after a game, and running into a little girl whose eyes lit up when they met.
"Her dad said she wanted to give me a high-five because she thought it was cool there was a girl ref there," Pistone said. "Just a cool moment that made me feel really warm."
Now, back to class.
[Pistone received her bachelor's degree from Cal-Berkeley, and her Ph.D. from Michigan. Before Gonzaga, she served as visiting professor at Notre Dame in South Bend, Ind.]