Suffrage and the Girl Scouts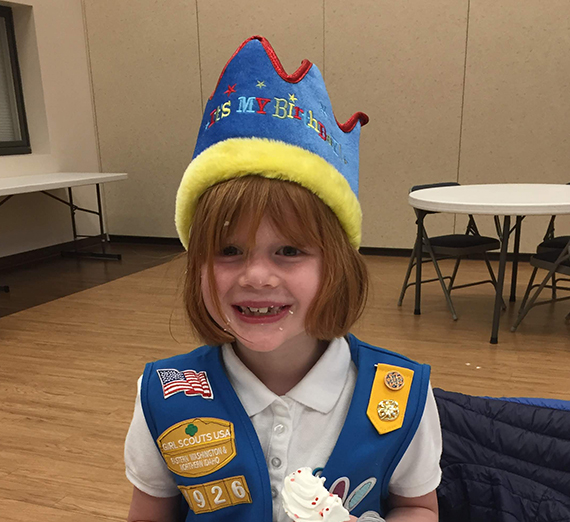 ---
Last year, my 7-year-old daughter Scarlett became a Girl Scout. The mission of the Girl Scouts is to "build girls of courage, confidence, and character, who make the world a better place." In her meetings, Scarlett learns about issues ranging from personal safety to giving back to her community. She helped weed the grounds at the Children's Home Society, marched in the Junior Lilac City parade, camped at Riverside State Park, and even earned a badge while watching Disney on Ice.
I always wanted to be a Girl Scout, but my parents could never take me to the meetings. Given my interest in girls and STEM education, for my Ph.D. dissertation, I researched the Girl Scouts' STEM program in Central Texas. Research shows that girls begin to lose confidence in their math and science abilities in adolescence, and the STEM program is designed to keep them interested. One of the aspects of the program is that they encourage girls to add their unique perspectives to each project. As the program director told me, girls don't only program robots, but they also may even design clothes for them to wear. I continue to be interested in the value that girls' viewpoints offer to STEM. One of my most recent projects analyzes video games designed by girls that have a social change message.
So, with the 100th anniversary of the 19th Amendment coming up, I wondered what the Girl Scouts were doing to honor the event.
Juliette Gordon Low started the Girl Scouts in 1912 in Savannah, Georgia, when she was 51 years old. The goal of the organization was to celebrate girls' individuality, strength, and intellect. Activities included hiking and camping, as well as civic engagement. She wanted to open girl scouting to girls from diverse backgrounds.
Today, there are nearly 2.6 million Girl Scouts in 92 countries, with more than 50 million alumnae, including Taylor Swift, Venus and Serena Williams, and nearly every female astronaut who has flown in space. Seventy-seven percent of female U.S. Senators and 52% of Representatives were Girl Scouts.
There is the historical question of whether Low was herself a suffragist. According to her biographer, Stacey A. Cordery, Low insisted that the Girl Scouts remain neutral on women's right to vote, so as to not alienate anti-suffragists (of which, her mother was one). Her goal was to attract girls from families from all different political persuasions and by remaining neutral, this would help her live out that goal. While Cordery writes that there is evidence of Low's personal support of suffrage, the Girl Scouts never publicly supported the movement.
While this finding may be disappointing, it reflects an ethos that runs through the organization to this day. In the Girl Scout Promise, girls pledge to "be a sister to every Girl Scout," and that includes those they may not agree with. This is an especially important proposition in a time where political discourse is so divisive.
It is a good thing that voting is not something that the Girl Scouts continues to remain neutral about. In 2017 in New York, Governor Andrew Cuomo and Lieutenant Governor Kathy Hochul announced a Girl Scout badge that celebrated women's suffrage in New York, three years before the 19th Amendment was ratified. For their patch requirements, girls learn about suffragist leaders and the definitions of civil disobedience. In Texas, Girl Scout Councils have a 2020 Women's Right to Vote Centennial badge program and to earn it, girls learn where to register to vote, how to get involved with a nonprofit organization, and how to draft a letter to an elected official.
Washington state granted women the right to vote in 1910, ten years before the 19th Amendment was ratified. I have been in contact with the Girl Scouts of Eastern Washington and Northern Idaho about how our girls can earn a badge.
Sources:
Cordery, Stacy A. (2012). Was Juliette Gordon Low a suffragist? Retrieved from http://www.stacycordery.com/juliette-gordon-low/was-juliette-gordon-low-a-suffragist/

Girl Scouts of the USA (2017). Fun facts. Retrieved from https://www.girlscouts.org/content/dam/girlscouts-gsusa/forms-and-documents/about-girl-scouts/facts/GSUSA_facts_English_12-17.pdf