American Academy of Nursing Names Dean Salyers a Fellow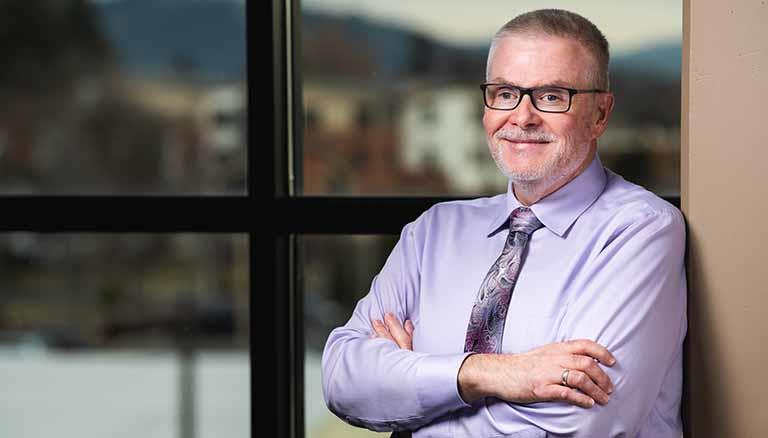 ---
SPOKANE, Wash. — Vincent Salyers, Ed.D., registered nurse, and dean of the School of Nursing and Human Physiology at Gonzaga University, is among 231 highly distinguished nurse leaders selected by the American Academy of Nursing to be honored among its 2019 class of Academy fellows. Dean Salyers is also an Academy of Nursing Education Fellow (ANEF).

"I am proud to welcome this incredible class of leaders to the American Academy of Nursing," said Academy President Karen Cox, Ph.D. and RN. "Their amazing accomplishments have changed health and health care across the country and around the globe. I look forward to celebrating the new fellows at our 2019 policy conference and working with them in the future so that our collective knowledge can impact and influence health policy."

For his part, Dean Salyers said he is humbled to have been selected as a Fellow.

"This is a tremendous blessing for which I am extremely thankful and honored," he said.

Dean Salyers' enduring and passionate advocacy to improve health outcomes for vulnerable populations, implement policy, and develop sustainable educational and evidence-based solutions for underserved populations has discernibly impacted thousands of individuals across the globe who might have otherwise gone unserved.

Through a competitive and rigorous process, a committee of elected fellows reviews hundreds of applications. The new fellows are selected based on their impressive contributions to increase access, reduce cost, and improve quality through nursing theory, practice, and science. Induction into the Academy is a significant milestone in a nurse leader's career where their accomplishments are honored by those within the nursing discipline.

The newest class of fellows represents 38 states, the District of Columbia, as well as 17 countries. The Academy is currently comprised of more than 2,600 nurse leaders in education, management, practice, policy, and research. They have been recognized for their extraordinary commitment to the promotion of the public's health through evidence and innovation.
Salyers and the other inductees will be honored at a ceremony during the Academy's annual policy conference, "Transforming Health, Driving Policy," Oct. 24-26 in Washington, D.C.

To learn more about the American Academy of Nursing, visit https://www.aannet.org/home.

MEDIA: To set up an interview with Dean Salyers, please contact Shannon Zaranski at (509) 313-3569.