When Families Call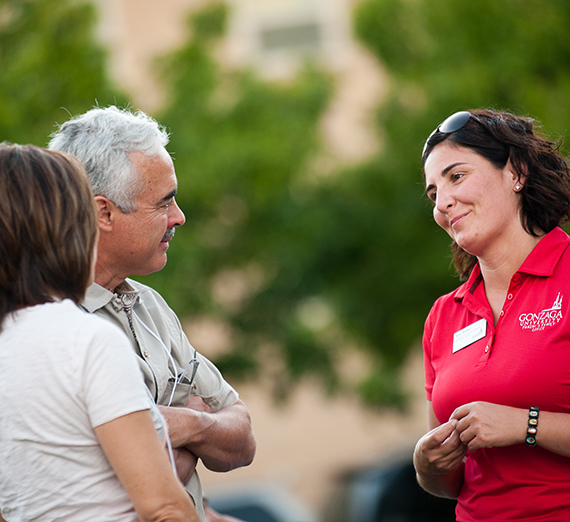 ---
During last fall's orientation weekend, one student's mom wound her way through the sea of activities to find Amy Swank, director of Gonzaga's Parent and Family Relations.
"She hugged me and said, 'I had to find you and let you know you saved my son's life,' " says Swank. She's cautious about accepting that level of credit, but recognizes that connecting people to the right services can make a major impact.
The woman's son had dealt with loneliness, and when she called the Parent and Family Relations office, staff made the right referrals. "Through the help her son was able to receive, he is on a path to success. To have such an emotional exchange with her still fills my heart deeply," Swank recalls.
There are some 50 student workers and volunteers in the Parent and Family office who make a resounding impact on families of incoming and current students. They provide a calming effect that many families of first-time college students need, and are the glue that holds this relatively new enterprise together.
Swank had worked for two years in University Relations,primarily with parents of current students, before asked to create a parent and family relations office.
"When I arrived at this new job, there was a binder created by a grad student, and half of my desk was put together. The rest was still unassembled. So I joke that we literally built this from the ground up," says Swank, who has been Parent and Family Relations' only director, just completing her 10th year.
Prior to the program's creation, families searched out answers from multiple sources, creating what Swank calls "campus stress." So she centralized communications and created a safe landing space for families. She showed them what it meant to be a collegiate family, and how they can "help us support their students," she says. A help line, newsletter, email and well-maintained web site keep families informed and ease the anxiety many feel when sending their daughters or sons off to school for the first time. To make sure they're hitting the mark, the office created a Parent and Family Council to provide advice on what the institution should be doing to support students.
Gonzaga's Parent and Family Relations office has received national awards for its student leader training program, care for the health and well-being of families, and outstanding family publications.
Most important to the operation are the 11 student workers and 40 volunteers who help families feel OK about letting their students go, knowing that they're in good hands. For orientation weekend, the student crew physically transforms space on campus, creating an environment that welcomes families. "They are advocates and supporters of our families when they are on campus, and dare I say, sometimes counselors," Swank says. They continue to support families throughout the year.
One parent suggested we must pay these ambassadors pretty well for all the work they do, Swank says, responding: "We give them a T-shirt and some pizza. When I started this job I worried whether students would want to work with family members, rather than other students. But we've never had a problem filling our spots."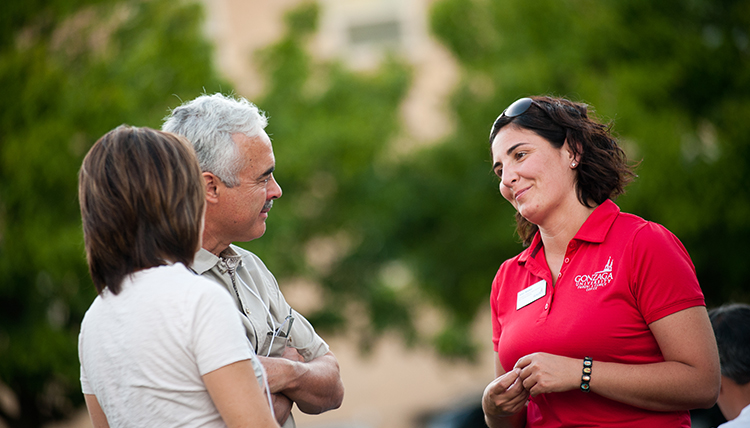 Parent and Family Relations Director Amy Swank (right) shares a laugh with parents during orientation. She serves as president of the national association for family engagement in higher education.
Changing Family Dynamics
Every year, families bring a unique set of circumstances. What works one year may not the next. "Today's families are communicating with our office more by social media – primarily Facebook – than by email," Swank says. "Who knows what their preferred communication channel will be in another three to five years."
Swank appreciates families and what they bring to the table. "They come from a place of love and support. Their connection to their student and to their own Gonzaga experience continues to deepen every year. They care for their students, and that turns into care for this place," she says.
Swank revels in the parents who come back for graduation and share how her office has helped the family. "They tell me they feel as connected to Gonzaga as they do to their own alma mater because we, as parents, live through our children."
Former Vice Presidents Sue Weitz and Margot Stanfield always knew there was a balance between care for our families and creating a space where families can be supported, and in so doing, engage them in a way that they want to come back. These two trailblazers conceived the idea for a Parent and Family Relations office, and Vice Provost Judi Biggs-Garbuio is happy to support its growth.
With Swank and her band of student ambassadors, the vision continues to flourish.
What advice do you have for new college parents?