Megan Shultz Hits Right Notes
---
SPOKANE, Wash. — Senior Megan Shultz has taken Gonzaga University by storm in her universe of music education, but that is far from the extent of her impact.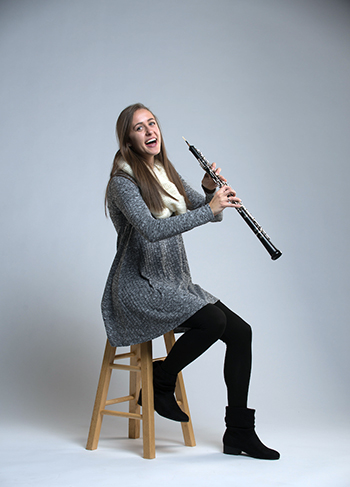 Shultz is a director of the pep band at Bulldog basketball games and is wrapping up her student teaching. She's described by her mentors as one of the most talented musicians to attend GU.
Her joy for life has best been on public display during her energetic work with the pep band. Those who know her best say those characteristics also shine through on a personal level.
"Megan has a beautiful spirit," says Rev. Janeen Steer of GU Mission & Ministry. "When I first met Megan, I was drawn to her smile — it lit up the room. That smile has blessed my life all four years and with it came an inquisitive mind, a faithful heart and a love for people."
Steer got to know Shultz better after she became a Christian Life Community (CLC) leader. Shultz has been a leader in her small group all three years. Shultz describes her CLC role as one of the most fulfilling aspects of her time at Gonzaga.
If that isn't enough, Shultz is also a naturally gifted, hard-working and accomplished musician. She grew up playing music and has played a half-dozen instruments since coming to GU.
"Megan is, in my opinion, the highest level musician of any music major at Gonzaga University in the 15 years I've been here," says David Fague, director of Gonzaga's pep band.
Jon Bentz, her faculty supervisor in the School of Education, echoes that sentiment.
"Megan is probably the most talented and highly skilled music educator with whom I have worked (in his long career)," says Bentz. "She is musically gifted playing oboe as her primary instrument (along with) piano, guitar, trombone and virtually all other instruments."
Shultz's leadership qualities extend into her role as a director and future music educator, which is her focus upon graduation. Those who have seen her growth are confident she'll succeed.
"Megan is an extraordinarily gifted music educator. She has the instincts of a conductor experienced well beyond her years with the unabashed passion of a wide-eyed rookie. That passion is contagious," said cooperating teacher Patrick Shamblin of Sacajawea Middle School.
Those who know Shultz best see her as a well-rounded person with unique talents who embodies the Jesuit ideals that she's been absorbing during her time at Gonzaga.
"We like to inspire our students to 'Go set the world on fire.' Megan will continue to do that in this world. She has inspired me and I thank God for her," says Steer.
Shultz indeed appears ready to make an impact after four years at Gonzaga, an experience that has met all of her expectations: great mentors, lasting friendships and deep personal growth.
"It's such a shaping part of my future. I wanted to grow much more than just as a musician and educator — and it's why I chose here," Shultz said. "I decided that I was going to learn and be with great faculty wherever I went, but (GU) was going to help me grow as a person and not just my future career."