Isabel Gregorio Finds Passion in Teaching
Zag Grads 2019
SPOKANE, Wash. — Isabel Gregorio, a Gonzaga University senior majoring in religious studies and elementary education, found a passion in teaching after immigrating to the United States.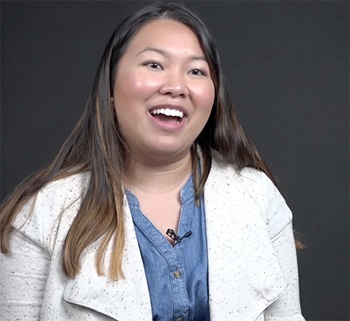 "I was an English language learner and that's a huge part of why I wanted to become a teacher because I have seen that side of what it is like to be an ELL student," said Gregorio, who came to Gonzaga from Kirkland, Washington.
Gregorio, who was initially interested in studying human physiology when she entered Gonzaga, was placed into Lincoln House, a residence hall for students studying biology and other sciences, which sparked her interest in Housing and Residence Life.
"I loved the people I was living with but I did not feel like it was the best environment for me," she said. "That's when I fell in love with programming that's more inclusive and makes sure residents feel that sense of community that Gonzaga is proud of."
Interested in discovering new ways to get involved in Housing and Residence Life, Gregorio became a resident assistant her junior year.
"I worked as an RA to see the different side of housing and the holistic perspective of being a student here and being involved in Housing and Residence Life," Gregorio says.
Gregorio is currently president of the Residence Hall Association, an organization that plans programming and events for students living in the residence halls.
"I started as the president of my residence hall my freshman year and now I'm the president of the organization," she said. "I have really worked my way up to get here."
Gregorio is also a Christian Life Community Leader on campus and has appreciated how Gonzaga has fostered opportunities to explore her faith.
"I grew up in the Philippines where about 81 percent of the population is Catholic. Coming to the United States was a huge culture shock for me," she said. "Being in the Jesuit education environment has helped me grow so much in my faith, not just being Catholic but learning to embrace the diversity and differences that everyone has on campus."
After graduation Gregorio is heading to the University of Notre Dame to earn a master's degree in education and will serve at under-resourced Catholic schools.
After that, she will teach third grade at St. Cornelius Catholic School in Richmond, California, a school that is part of the Archdiocese of Oakland.
"I am very excited to be teaching third graders and to help out with anyone I can," she said.
Academics
School of Education
College of Arts & Sciences
Center for Cura Personalis (CCP)
Office of Mission & Ministry
Religious Studies
Teacher Education
News Center