Where There is Hope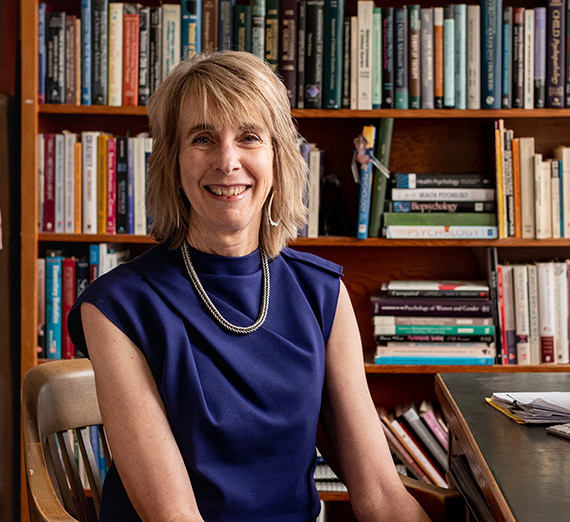 ---
Every day, Gonzaga psychology professor Nancy Worsham, Ph.D., sees the next generation through a lens that magnifies the good around her.
"Whenever I get really concerned about the world," she said, "it's these millennials I believe in. I've been fortunate to be at a university that has relatively small class sizes so I can build relationships with them."
Her belief stems from her students. Like the one who served in the Peace Corps and went on to pursue a master's in public and global health. The student shared how much she valued Worsham having taught her mindfulness — something that was helpful for her while serving in the Peace Corps — when she was cold, hungry and scared, she was able to be present in the face of suffering and loss around her.
"These students are so impressive," Worsham mused. "They're lovely people who help others through their understanding of our common humanity. From the core curriculum and our mission, they've been exposed to Jesuit values and are aware of issues of diversity and social justice."
This was especially evident at a time when life came down hard on Worsham — her students stepped up in little ways that made a big difference. Worsham felt fortunate to have built relationships with her students and colleagues, and to find out just how meaningful they were during her own time of strife.
"I'd gone through some significant losses," she explained, "and they really showed up for me."
Whether it was just being there to listen, telling her, "we have so much respect for you," or even a bouquet of flowers, every little gesture of understanding had a tremendous impact on Worsham. They were truly Gonzaga moments, exemplifying the kindness and sense of community for which the University has become so well known.
"I love teaching and these experiences gave me a renewed sense of purpose and meaning," shared Worsham. "I'm much more aware of the needs and challenges our students face. I was a first-generation student and I worked full-time. Some of my students are doing that now, too. I know how tough it can be. Every little bit helps and can have a huge impact on perpetuating the community we have here."
Like a lot of people her age, Worsham hadn't yet made plans for her estate. The youngest of five with no children of her own, Worsham wondered, "How can I do good work with whatever assets I have?" After asking that question, she then realized she had been investing in Gonzaga students with her work all this time — why not take it one step further?
"It made sense to me," she said. "So, I decided to make Gonzaga a beneficiary of my retirement assets with the goal of starting the Worsham Family Scholarship for first generation students." Worsham added, "It isn't about being a big benefactor. You don't have to leave your entire estate — if you have children or other causes, support them! But even a small gift might help a student buy books or be able to stay here. It's just so important we have educated and informed citizens, because then we'll have compassionate citizens. When I think about my legacy, what comes to mind involves connection, community and relationships. Gonzaga provides a context that offers opportunities for these, and through that, hope."
Faith & Mission
Service & Community Impact